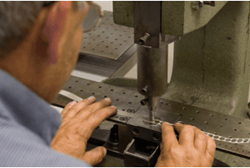 In this highly-demanding industry, Ejay Filtration, Inc. still values every relationship from order to delivery.
(PRWEB) October 31, 2017
Ejay Filtration, Inc. is proud to celebrate 30 years in business. Since the business was founded in 1988 out of a small facility in Southern California, it has grown into one of the nation's leading precision stainless steel woven wire mesh filtration manufacturing companies. "Protecting innovation through filtration" in highly-demanding environments is the core of what Ejay Filtration can do.
This Women-Owned Small Business (WOSB) is one of a select few manufacturers whose products meet the rigorous quality standards required to secure manned space flight contracts with large organizations like NASA, the US Military and commercial airlines. The company is also AS9100 and ISO 9001 certified along with being a NADCAP accredited for their hydrogen atmosphere induction brazing process for stainless steel woven wire mesh filter manufacturing.
Ejay Filtration Inc. serves a variety of industries including aerospace, commercial aircraft, military, oil and gas. They design, engineer, manufacture and test all of their products on site in Riverside, CA with the support of a full-service machine shop.
Ejay Filtration's continued business growth can be attributed to a highly-skilled workforce, quality ethics and continuous improvements, including integrating a lean manufacturing culture with innovative engineering and modern equipment.
In addition, for the second time since 2014 Ejay Filtration Inc. has been nominated by the city of Riverside, CA for the "Entrepreneur of the Year Award". Being recognized as a top leader among 850 small businesses in Inland Southern California for their entrepreneurial spirit and workforce contribution is a great honor. For more information about the Inland Spirit Awards 2017, click here.
"I am proud to recognize this major milestone for a small business," said President and CEO Cheryl Young in a statement. "Ejay Filtration, Inc. prides itself on partnering with all of its customers to design and manufacture the highest-quality solution for their needs. Just call and you'll experience the difference when you speak live to any of our employees. In this highly-demanding industry, Ejay Filtration, Inc. still values every relationship from order to delivery."
The company has a long-running reputation for its quality precision products with major aerospace primes such as Boeing, Lockheed Martin, Space X, Moog, Honeywell, Roush Engineering, Parker, Eaton and Solar, to name a few.
For more information about Ejay Filtration's products and services, visit their website or follow them on Facebook, Twitter and LinkedIn.