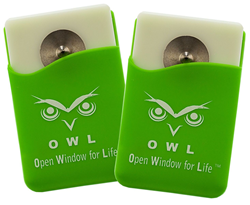 Give the Gift of Safety With OWL™ Open Window for Life
San Marcos, CA (PRWEB) October 25, 2017
Keep those you love safe with a practical gift that's simple and easy to use. OWL™ Open Window for Life is the first, and only, patent protected flat, credit card size, escape tool that can easily slice through seat belts and smash through safety glass with just a flick of a finger. OWL™ Open Window for Life has a smart design that's not only portable but also discreet and always at the ready. Promote less stress this holiday season with this life saving gift.
Discover the innovative features of OWL™ Open Window for Life:

Accessible -- The holder adheres to visors making it within quick reach; no fumbling, no searching.
Compact -- Hammers are awkward and take up too much space. OWL™ doesn't swing from your keychain. OWL™ can be attached anywhere in a car or kept discreetly in your wallet or on your phone.
Powerful -- OWL is 5X more powerful than a spring-loaded device.
Visible -- Its carrying case comes in bright green and hot pink so it's easy to spot in an emergency.
Safe -- It breaks glass outward and comes with an integrated, recessed cutter.
Smart -- Its revolutionary design and technology uses no moving parts so it can't malfunction.
Portable -- Keep one in a wallet or purse for travel. Perfect for drivers and passengers.
Made in the USA
May your holidays be fun and safe with help from OWL™ Open Window for Life!
OWL™ Open Window for Life is made in USA and is manufactured with the highest quality components. It can be purchased in a two pack to share with family and friends. Simply visit http://www.owlopenwindowforlife.com or Amazon.