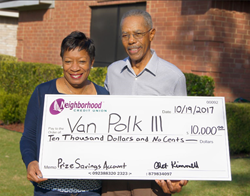 When I was down and out, I came to you and you took care of me.
CEDAR HILL, Texas (PRWEB) October 25, 2017
On International Credit Union Day, one Cedar Hill man experienced firsthand the difference credit unions make in people's lives.
Van Polk III awaited what he thought was going to be one person dropping off an envelope only to step on his front porch to see Neighborhood Credit Union leadership with an over sized check for $10,000. The actual $10,000 prize was deposited directly into his Prize Savings Account at the credit union.
"I didn't know what it was," Polk said. "My wife said whatever it is we have to share it."
Polk, a postal service retiree and Neighborhood Credit Union member for 34 years, is a strong proponent of "paying yourself first" and it is something he has practiced his entire life. He said that he would eventually need money when he retires and the only way he was able to accomplish that was by getting into the habit of putting money away.
"Mr. Polk has been a dedicated saver and loyal member for many years," said Carolyn Jordan, senior vice president at Neighborhood Credit Union. "This is our way of showing appreciation and rewarding our members for making saving a priority."
Dallas-based Neighborhood Credit Union established the Prize Savings Account in 2007 to encourage people to save more money, at a time when the personal savings rate had dropped to one of the lowest levels in U.S. history. But by being a consistent saver, Polk has never stopped paying himself first. Even in the hard times.
While he was working for the Postal Service, Polk needed some financial help and had been turned down by other financial institutions. After financing his first car with Neighborhood Credit Union in 1969, he decided to come back and said he is glad he did.
"When I was down and out, I came to you and you took care of me," Polk said "And now they've made it so convenient that you don't have to go in [to the branch] anymore."
When it comes to saving, Polk has a simple philosophy that has taken to heart and passed on to his daughter.
"Put your money in the bank, even if it's $25 every month, and don't take it out," he said. "Just let it accumulate."
See the Video of the surprise delivery: https://youtu.be/XO7GXk5bDxg
How the Prize Savings Account works: Neighborhood Credit Union members receive one drawing entry for every $25 monthly average balance in their Prize Savings Accounts. The greater the savings, the greater the chance a member has of winning. Members are eligible for monthly drawings up to $5,000 and quarterly $10,000 drawings. At the start of each year, a winner is drawn for the newly-increased $49,999.99 grand prize based on the average monthly balance in the savings account at close of business December 31. The upcoming 2018 drawing marks the 10th Anniversary Grand Prize Savings drawing for Neighborhood Credit Union.
About Neighborhood Credit Union: The oldest credit union in Dallas (chartered April 18, 1930), Neighborhood Credit Union is a not-for-profit financial organization serving Dallas, Denton and Ellis counties, as well as the City of Arlington. With branches in Dallas, Richardson, Arlington, Mesquite, Duncanville, Waxahachie, Lancaster, Grand Prairie, Coppell, and Highland Village, and assets topping $600 million, Neighborhood Credit Union has a membership of 49,000 and continues to welcome new members daily. For more information, call (214) 748-9393 or visit http://www.myncu.com.