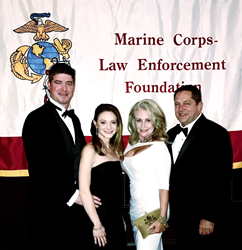 DOYLESTOWN, Pa. (PRWEB) October 25, 2017
Bucks County family law firm Williams Family Law. P.C. is pleased to announce its support of the Marine Corps-Law Enforcement Foundation (MC-LEF) through sponsorship of its annual Philadelphia Dinner and Gala.
Jeffrey M. Williams, Robert J. Salzer, and their respective significant others attended the event at the SugarHouse Casino on Sept. 30, 2017. The MC-LEF provides scholarship and grant assistance to the children of deceased United States Marine Corps and federal law enforcement personnel who have been killed in the line of duty. The children of the fallen are the direct beneficiaries of all funds raised by the gala dinner.
The military guest of honor for the evening was White House Chief of Staff and former Marine Corps General John F. Kelly, who discussed the importance of service to the country, military and non-military. Other notable gala guests included Medal of Honor Recipients Barney Barnum, Brian Thacker, Jack Jacobs, and Tom Kelly.
Two special awards were given out over the course of the evening: The Eagle, Globe, and Anchor Award was presented to Thomas B. Fenerty, USAF, and the Semper Fi Award was presented to Terry A. Williamson, USMC.
Williams Family Law is proud to have sponsored the event benefitting the children of those who paid the ultimate sacrifice for their country. Since its founding in 1995, MC-LEF has raised more than $71 million through sponsorships and donations to benefit nearly 4,000 people. Currently, MC-LEF is able to provide a $30,000 scholarship account for every child who loses a parent serving in the U.S. Marine Corps or any federal law enforcement agency.
More information about the work of MC-LEF is available at http://www.mc-lef.org.
About Williams Family Law, P.C. – Williams Family Law, P.C., is a premier family law firm based in Bucks County, Pa. The firm provides individuals with matrimonial and family law legal counsel and representation in alimony, child support, child custody, divorce, cohabitation, grandparents' custody rights, equitable distribution, marital settlement agreements, prenuptial and postnuptial agreements, separation agreements, spousal support, matrimonial taxation issues and related legal matters. The family law attorneys also provide guidance and representation in alternative dispute resolution forums, handling mediation, arbitration and custody dispute resolution. The practice at Williams Family Law centers on four core principles: experienced guidance, compassionate advice, powerful advocacy and knowledge of the local courts and counsel. The firm prides itself on leadership within the profession and a strong record of success. To learn more, visit http://www.bucksfamilylawyers.com.