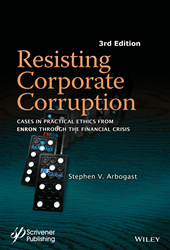 Chapel Hill, North Carolina (PRWEB) October 25, 2017
Preparing students to deal with ethical issues in the workplace is the goal of "Resisting Corporate Corruption: Cases in Practical Ethics from Enron through the Financial Crisis" by Stephen Arbogast, a professor at the University of North Carolina Kenan-Flagler Business School.
"Younger employees can be the most vulnerable when faced with ethical dilemmas, and this book will help them to spot and handle those situations," says Arbogast.
"My aim is for students to understand their options and emerge with a practical toolkit that enables them to follow their moral compass," he says. "People think an ethical challenge will never happen to them – until it does. They then panic and believe their only choices are to go along or resign. That's not close to true, and the book provides a strategic and tactical perspective to address those challenges."
"Resisting Corporate Corruption" (Wiley-Scrivener, October 2017) had its origins during the Enron scandal. The new, third edition now addresses the financial crisis and its aftermath with 28 case studies and nine essays covering a full range of business practice, controls and ethics issues. It is written for business and law students; corporate heads of audit, controllers, and legal compliance officers; and business leaders, especially heads of financial and large corporations.
Essays discuss the nature of sound financial controls, root causes of the financial crisis and the evolving nature of whistleblower protections.
Framed to help students identify ethics problems and address them within corporations, cases address:

Challenges, legal protections and outside support for would-be whistleblowers
Ethical dilemmas facing CEOs and alternatives to combine ethical conduct and business strategy
How a corporation like Enron becomes progressively corrupt
Ethical decay at diverse institutions that were the roots of the financial crisis
Challenges that persist in the post-financial crisis environment
Sherron Watkins, widely known as the Enron whistleblower, wrote in the book's foreword that the kind of practical ethical training offered by the book is essential: "Without any knowledge of how to spot and address an ethical challenge, most employees will fall victim. The pressures are just too great to do otherwise."
Arbogast is a professor of the practice of finance at UNC Kenan-Flagler and director of the Energy Center in the Frank Hawkins Kenan Institute of Private Enterprise. He teaches business ethics, finance and the business of energy.
#
About the University of North Carolina Kenan-Flagler Business School
Consistently ranked one of the world's best business schools, UNC Kenan-Flagler is known for its collaborative culture that stems from its core values: excellence, leadership, integrity, community and teamwork. Professors excel at both teaching and research, and demonstrate unparalleled dedication to students. Graduates are effective, principled leaders who have the technical and managerial skills to deliver results in the global business environment. UNC Kenan-Flagler offers extraordinary, real-life learning experiences a rich portfolio of programs: Undergraduate Business, MBA, Master of Accounting, PhD and Executive Development. It is home to the Frank Hawkins Kenan Institute of Private Enterprise, a nonpartisan business policy think tank that facilitates collaboration between the private, public and nonprofit sectors to build a greater understanding of how entrepreneurship, economic development and global commerce can work for the public good.