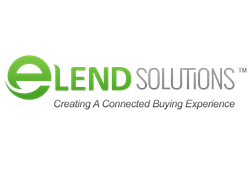 One thing that remains consistent over the years, as we survey dealerships, is the disconnect between the progressive, streamlined digital process dealers say they want to offer and their ability to deliver it.
FOOTHILL RANCH, Calif. (PRWEB) October 25, 2017
A new auto dealership survey from eLEND Solutions offers a good news/bad news scenario for the future of digital retailing: dealers overwhelmingly say they are progressive and willing to adopt more digital retailing tools (84%), yet the majority define digital retailing as posting inventory and report that over 50% of their process continues to be manual/paper-based.
How would you define your dealership's approach to innovation/technology?

39% -- First Mover/Innovator: The first to try new ideas, technologies or create new ways of doing things.
38% -- Fast Follower: Fast to recognize other good ideas and moves quickly to adopt/imitate.
15% -- Late Mover: Takes a wait-and-see approach to innovation or new technologies.
8% -- Last Mover: Slow to implement innovation, new ideas or change established processes.
The snapshot survey, conducted among dealerships nationwide in August 2017, clearly illustrates that dealers are interested in a progressive, customer-focused, digital approach to retailing. For example, dealers overwhelmingly agreed with the statement: "Sell the car the way the customer wants to buy it by letting shoppers start and stop when & where they want. Online or in-store," but the actual process/tools implementation lags significantly behind this progressive intent.
What comes closest to your dealership's definition of 'digital retailing'?

52% -- Listing inventory on our own website, third party shopping sites (e.g. Autotrader, Cars.com, etc.) and social media platforms (Facebook, YouTube, etc.).
19% -- Letting customers start but not finish the deal online using first pencil tools (e.g. instant credit decisions, real time price negotiation tools, instant trade-in values, VIN specific purchase & lease information, deal summary tools, etc). Excludes F&I product sales, contracting and delivery.
13% -- Any dealer initiated, in-store selling platforms or tools (e.g. Mobile CRM, Mobile Trade-in Appraisal tools, F&I Mobile App, etc.) that combine touch screens, or app/web based smartphone/tablet technologies.
10% -- Being able to facilitate the entire sales and F&I process online, including arranging the financing, transacting and contracting the sale.
6% -- Having a dealership website.
The dealerships surveyed cite customer service as their key dealership differentiator and believe a digital retail strategy is key to the shorter transaction times that they aspire to (90% want it to be under two hours but less than half are achieving that).
"One thing that remains consistent over the years, as we survey dealerships, is the disconnect between the progressive, streamlined digital process dealers say they want to offer and their ability to deliver it," said Pete MacInnis, CEO of eLEND Solutions.
What percentage (approx.) of your current dealership sales/retailing process is conducted digitally?
(% of respondents = % of dealership/retailing process conducted digitally)

1% = 0%
30% = 25% or less
35% = 26% - 50%
20% = 51% - 75%
13% = 75% to 99%
2% = 100%
"Customers' expectations are passing beyond dealerships' ability to deliver on those expectations," continued MacInnis. "While this is, in part, attributable to slow adoption of new tools, entrenched legacy processes and the inherent complexity of car financing and purchasing, a key culprit is our industry's inability to deliver a consistent, end-to-end digital retailing solution -- and one that is not cobbled together from multiple vendors. The dealership 'will' is there – they overwhelmingly want a solution that connects the online and offline dots – but the 'wherefore' has yet to arrive. The good news is that the solution is definitely on its way."
Key Highlights from the Digital Retailing Survey:

Customer service was cited as the top dealership differentiator
68% say the top benefit of digital retailing is shorter transaction times
Dealerships overwhelmingly agree with the idea that their website operates as a 'digital' showroom (93%), but most define digital retailing as listing inventory versus actually allowing more of the deal to be initiated online or in-store app/web based smartphone/tablet technologies.
While 84% plan to adopt more digital retailing tools, the majority (70%) are opting for an incremental approach.
Reluctance to change and cost are cited as top barriers to adopting more tools – good news is that less than 20% are opposed to adoption.
Online digital retailing tools connected with the in-store sales process was the top choice for nearly 70% of dealers.
60% say that if they could add more tools to make their websites more transactional, they would.
About eLEND Solutions
eLEND Solutions is a privately held automotive technology company specializing in online and in-store credit, finance and 'deal making' solutions designed to create a more efficient, faster moving Sales and F&I workflow that helps dealers sell more cars in less time, improve profitability and increase customer satisfaction. For more information, visit http://www.elendsolutions.com.
Contact:
Media Relations
Melanie Webber, mWEBB Communications, (424) 603-4340, melanie(at)mwebbcom(dot)com
Crystal Hartwell, mWEBB Communications, (714) 987-1016, crystal(at)mwebbcom(dot)com