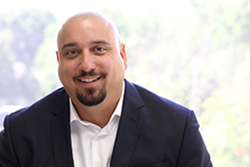 We're very excited to have Ryan join the team. In a very short time, he's added a substantial amount of value to the Insurance Clicks division. We're investing in top-notch team members and the results are evident in the quality of our leads and clicks
OVERLAND PARK, Kan. (PRWEB) October 25, 2017
Inside Ventures is excited to introduce Ryan Wasinger as its new Chief Marketing Officer! Ryan joins Inside Ventures to help refine and grow the InsuranceClicks.com division. He has a wealth of search marketing knowledge and a proven track record of building online strategies to drive user engagement. In Ryan's previous role, he and two brothers (with a lucrative Yahoo partnership) built several online destinations and became one of the largest publishers for eBay and Google Adsense.
"We're very excited to have Ryan join the team. In a very short time, he's added a substantial amount of value to the Insurance Clicks division. We're investing in top-notch team members and the results are evident in the quality of our leads and clicks," said Trevor Nohe, President of Inside Ventures.
Less than one year old, InsuranceClicks.com has grown substantially with new Advertisers and Publishers joining daily. Insurance advertisers have seen great returns with our proprietary sourcing and publishers have benefited greatly from the diversity and high payouts.
For more information, contact Ryan directly via email (Ryan(at)InsideVentures(dot)com) or visit http://www.insuranceclicks.com to learn more.
About Inside Ventures: Inside Ventures partners with large brands to scale customer acquisition efforts through online lead generation and inside sales. We specialize in building cost-effective campaigns in education and insurance (life, health, Medicare, auto & home, and final expense).