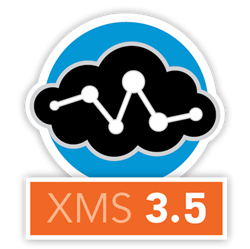 With the introduction of the 3GPP EVS codec, wireless operators will be able to significantly improve the user calling experience, an important differentiator for IMS and LTE wireless networks
PARSIPANNY, N.J. (PRWEB) October 25, 2017
Dialogic, a cloud-optimized applications and infrastructure solutions provider for service providers, enterprises, and developers, announced today the general availability of Dialogic® PowerMedia® XMS Release 3.5, an enhancement of the company's media server, adding a number of improved media capabilities that enable voice and video applications in service provider and enterprise deployments.
A significant enhancement with the 3.5 release is the addition of the Enhanced Voice Services (EVS) audio codec. As defined by the 3rd Generation Partnership Project (3GPP), EVS is a superwideband speech audio coding standard, capable of delivering significantly greater fidelity as compared to standard telecom codecs, improving comprehension and reducing listener fatigue. The codec offers up to 20 kHz audio bandwidth and has high robustness to delay jitter and packet losses due to its channel aware coding and improved packet loss concealment. The EVS codec is described in 3GPP TS 26.441, and Dialogic is a licensee of the EVS Patent Portfolio administered by MPEGLA.
"With the introduction of the 3GPP EVS codec, wireless operators will be able to significantly improve the user calling experience, an important differentiator for IMS and LTE wireless networks," said Jim Machi, Senior VP Product Management and Marketing at Dialogic. "PowerMedia XMS with EVS will facilitate very high-quality telephony and teleconferencing, audiovisual conferencing services, and streaming audio."
"With improved voice quality and potential for entertainment applications, we expect the adoption of HD-quality codecs to accelerate as part of the on-going evolution of wireless networks," said Paul Lambert, senior analyst, Ovum. "Service providers that deploy the latest voice technologies will enhance the customer experience and lay a solid foundation for new capabilities."
Other notable enhancements found in PowerMedia XMS 3.5 include:

Encrypted Recording – Support for AES 256bit encrypted recordings into .webm and .mkv containers, facilitating greater security in financial and medical applications.
Video Enhancements:
MCU Portrait Root sizes – Support for portrait orientation root windows for MCU conference mixing
MSML Title captions – Support for title caption overlays on joined video streams
Video CVO Support* – Support for handling of Coordination of Video Orientation (CVO) parameters to signal video orientation.
Dialogic® PowerMedia® MRB Enhancements – Release 3.5 adds support for the following Media Resource Broker features:
X-Call-Group steering – Support for SIP header extension, X-Call-Group header, for enhanced call steering and routing of calls to the same media server.
RESTful API 'resource_moved' event – An event provided to the application to indicate calls were moved on MS failover.
MRB AWS Support * – Support for the PowerMedia MRB in Amazon Web Services (AWS)
Key Performance Indicator (KPI) Collection and Reporting (CI)
V.34/ T.38 Support * – PowerMedia XMS release 3.5 adds support for T.38 up to V.34 fax, doubling the speed of previous XMS fax support.
Along with numerous additional enhancements as outlined in the PowerMedia XMS 3.5 Release Notes.
New features provided under Controlled Introduction
Dialogic's PowerMedia XMS is a highly scalable, software-only media server that enables standards-based, real-time multimedia communications solutions for IMS, MRF, enterprise, and WebRTC applications on premise or in the cloud. Built on 15+ years of software media processing experience, PowerMedia XMS is trusted by world-class service providers and large enterprises to power millions of rich media sessions.
To learn more or to download an evaluation copy of XMS 3.5, visit the PowerMedia XMS product information page.
About Dialogic
Dialogic is a leading cloud-optimized solutions provider for real-time communications media, applications, and infrastructure to service providers and developers around the globe. Based in Parsippany, NJ with offices worldwide, Dialogic helps 48 of the world's top 50 mobile operators, and nearly 3,000 application developers build and deploy on agile networks. Learn more about how Dialogic is enabling agility by following us on Twitter @Dialogic, and visiting http://www.dialogic.com and the Dialogic Blog for the latest industry news, trends and advice.
Dialogic and BorderNet are either registered trademarks or trademarks of Dialogic Corporation or a subsidiary thereof ("Dialogic"). Other trademarks mentioned and/or marked herein belong to their respective owners.