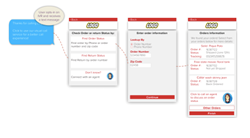 Boston, MA (PRWEB) October 24, 2017
Since the beginning of the year, the overwhelming trend of new customers is to implement a Mobile On-Demand Visual IVR compared to the traditional mobile apps of the past. Converting a customer call into a self-service visual experience allows call center customers to engage in digital communications without the need to download an app. With more and more businesses accepting the shift away from app downloads to an easier path of Mobile On-Demand, Zappix, the leader in Visual IVR, announced today a market trend for choosing Mobile On-Demand Visual IVR over app downloads.
A few years ago, every business large and small wanted to have its own Mobile app downloadable from the Google Play and Apple App store. Over time, this trend has changed. Consumers do not want to download apps, unless they use them daily. However, the need for a fully functional mobile app when a consumer wants to communicate is very necessary. For example, when a caller dials a call center using Zappix Mobile On-Demand, they are given an option to use their smartphone touch screen to book services and resolve issues without the need to call an agent or download an app. The industry has evolved away from app store downloads to the use of a Mobile On-Demand solution. According to market research, people do not return to downloaded apps, they do not like downloading a company's app because it takes up too much storage and uses a lot of data which costs the consumer money. The Zappix Mobile On-Demand tool demonstrates the same power of a native app for handling self-service mobile interactions without any of the headache of downloading and returning to an app, all while reporting back interactions in real time to an Agent Dashboard.
"Mobile On-Demand is a considerable extension for callers across industry call centers, providing low-effort interactions to the customer service process, increasing customer convenience, Customer Experience (CX) and significantly reducing costs for businesses," said Avner Schneur, President and CEO of Zappix, Inc. "Lots of companies have an IVR (Interactive Voice Response) some with a very deep tree which makes it tedious and complex to interact with the business. I am delighted to see significant increase in utilizing a fully featured Mobile On-Demand VIVR. While businesses shy away from traditional apps and traditional voice menus are frustrating and do not offer callers ways to solve their issues, Zappix's Mobile On-Demand solves those challenges, giving the caller exactly what they want, reducing call times, and improving Net Promoter Scores (NPS) all without any app downloads."
##
More About Zappix
The Zappix Cloud-based Mobile On-Demand Visual-IVR platform is a SaaS (Software as a Service) solution for self-service, omni-channel, customer service communications. It allows companies to rapidly and cost-effectively deploy a Smartphone Visual IVR experience that provides a highly intuitive and extremely interactive customer care experience on Smartphones. Benefits include increasing customer satisfaction and a company's Net Promoter Score™ (NPS), while reducing contact center costs.
The Zappix smartphone Visual IVR and Mobile On-Demand solution has grown rapidly and currently provides hundreds of companies with a streamlined way to empower and better serve customers. The continually expanding list of Zappix-supported organizations includes insurance companies, utility companies, banks, internet and mobile service providers, retailers, airlines and government agencies.
For more information about Zappix, visit http://www.zappix.com or contact Sally Cooper, Marketing Manager at 781.214.8124; sally.cooper(at)zappix.com.