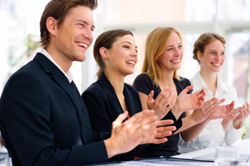 Engagement will become ever more important in the future
COLUMBUS, Ohio (PRWEB) October 26, 2017
Career Partners International, (CPI) one of the largest career management firms in the world, offers expertise in engaging employees. CPI'S Philadelphia firm, CCI Consulting, has developed research on employee engagement. The firm gathered this data from their Global Employee Engagement Survey over the past two years.
Employee engagement provides much more than keeping employees interested in their work. It is an important tool that increases revenue and decreases turnover. Engagement will become ever more important in the future as certain skills and talents become increasingly rare among the working population. This is a key concept for management of all industries to understand and implement.
The Global Employee Engagement Survey's key findings include the most consistently reported reasons people leave companies: lack of meaningful recognition for the value of their contributions; lack of discussions related to career growth in learning new skills and little understanding of career paths within the organization; and poor leadership as employees feel that managers are out of touch with them and how to drive better business results.
For the full article, visit our site.
Career Partners International's global network of offices and experts guarantees excellent, personalized services with cutting-edge technology whether in a local market or cross-continent business to improve engagement of your employees that yields impressive business results and reduces unwanted attrition. To learn more about Career Partners International's wide range of business-evolving offerings, visit our website.
About Career Partners International
Founded in 1987, Career Partners International is a leading provider of Outplacement, Career Management, Executive Coaching and Leadership Development services from more than 300 offices in over 45 countries. Employers around the world trust Career Partners International's local market experts to provide the best possible outcomes for employees across Canada, the United States, Latin America, Europe, Middle East and Africa, and Asia Pacific regions.