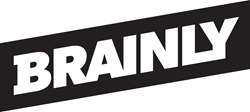 NEW YORK (PRWEB) October 25, 2017
Brainly, the world's largest peer-to-peer learning platform for students, today announced it has surpassed 100 million monthly users across its global platform. The user milestone comes in addition to Brainly's closing of $14 million in new funding, led by Kulczyk Investments, to strengthen Brainly's vision of a more personalized learning experience for students. Previous investors, Naspers, General Catalyst, Point Nine Capital, and Runa Capital also participated.
Making Brainly's 100 million monthly user milestone even more distinct among tech companies is that users are middle and high school students coming to Brainly from 35 countries. The milestone comes as the company sees record growth in the US following its 2016 acquisition of OpenStudy. Now fueled by additional funding from Kulczyk Investments, Brainly will further accelerate global growth and expand its product team, which will focus on developing new personalized learning features for the Brainly platform.
"Learning is different for every student, and we strive to make every learning experience a collaborative and engaging journey for students around the world," said Michał Borkowski, CEO and co-founder of Brainly. "Reaching 100 million monthly users reinforces our belief that a personalized learning experience is one that helps students achieve success and empowers them to help one another. After meeting with Sebastian Kulczyk this past Spring, both Sebastian and I realized our shared vision for education and driving growth, and we're excited that alignment is helping us create an environment where students can share and explore knowledge in a collaborative community."
The investment from Kulczyk Investments brings Brainly's total funding to $38.5 million since the company's inception in 2009.
"Brainly perfectly fits into our VC strategy. They have a great team and product, and are positioned to have great global development potential. We share a fascination with modern technology and a vision to continually create value out of our partnership," said Sebastian Kulczyk, CEO of Kulczyk Investments.
"We enthusiastically support Brainly on their ambitious path to helping students across the globe better succeed with help from their peers," said Larry Illg, CEO of Naspers Ventures and Brainly Board Member. "Since our initial investment in 2016, we have been impressed with Brainly's growth, particularly in the U.S. Even beyond the staggering size of the Brainly user base, we have been pleased with the depth of user engagement and this is no doubt a result of the continued evolution of their platform to better serve students throughout the learning process."
As an amplified learning tool, Brainly is achieving its mission to give every student in the world access to online learning opportunities. Recently, it expanded its platform to implement paid features that expanded its use as a trusted resource for students, parents, and teachers outside of the classroom. Today, more than 100,000 questions are answered daily on Brainly, making it the largest peer-to-peer learning platform in the world.
About Brainly
Brainly is the place to learn, for students, by students. The world's largest peer-to-peer learning platform for students, Brainly.com and the Brainly app bring high school and middle school students together to make learning outside the classroom highly engaging, effective and rewarding. Students connect to their peers to help strengthen their skills, from math, to science, to history and beyond. Based in Kraków, Poland, with U.S. headquarters in New York City, Brainly is currently visited by users from 35 countries. Backed by Naspers, Point Nine Capital, General Catalyst, Runa Capital and Learn Capital, and Kulczyk Investments. Learn more about Brainly at meet.brainly.co.
About Kulczyk Investments
Kulczyk Investments is the first global family business of Polish origin with a track record in handling the largest projects in this region of Europe, with a presence in more than 30 countries on 4 continents. Sebastian Kulczyk is an international investor, leader of a generation of Polish entrepreneurs working in the field of new technologies. Founder of VC Fund supporting technology companies in global development. Initiator of projects that constitute the source of inspiration and competence for Polish start-ups.
About Naspers
Founded in 1915, Naspers is a global internet and entertainment group and one of the largest technology investors in the world. Operating in more than 130 countries and markets with long-term growth potential, Naspers builds leading companies that empower people and enrich communities. It runs some of the world's leading platforms in internet, video entertainment, and media.