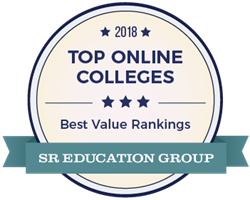 The organization will be continuing its research of online colleges throughout this year, and publishing over 100 program-specific rankings in 2018.
KIRKLAND, Wash. (PRWEB) October 25, 2017
SR Education Group, a leading education research publisher founded in 2004, has just announced a major addition to GuidetoOnlineSchools.com: the 2018 Top Online Colleges for Value. The new rankings take into account academic strength and affordability in order to provide a list of colleges offering high quality online education at the best value. The 2018 Top Online Colleges methodology employs degree-specific tuition rates that are manually researched by the organization, as well as data from the National Center for Education Statistics (NCES). SR Education Group's extensive research resulted in four separate rankings lists that highlight the top 25 online colleges by degree level, as well as an overall best value ranking with 10 colleges, and the organization will launch over 100 program-specific lists in 2018.
To be considered for the bachelor's and master's rankings, colleges must have at least 10 fully online programs at each degree level respectively. For the associate and doctoral rankings, colleges were required to have at least three fully online degrees at the ranked degree level. To be considered for the Overall Best Value ranking, schools needed at least 10 degrees at both the bachelor's and master's levels, and both undergraduate and graduate tuition rates were taken into account. For schools that met the criteria, academic strength factors and annual tuition rates were entered into a proprietary algorithm to determine value score and rank order.
The University of Central Florida tops the 2018 Overall Best Value ranking list with an undergraduate tuition rate of $10,866 and graduate tuition rate of $9,842. For specific degree levels, Ohio University is the #1 top online college for associate degrees, Drury University the #1 choice for online bachelor's degrees, University of Maryland - College Park the top school for online master's degrees, and Montana State University the top school for online doctoral degrees. Of all schools considered, three schools ranked on three of the five Top Online Colleges lists: University of Massachusetts - Amherst, University of North Dakota, and Regent University.
SR Education Group has been researching and publishing content about online colleges since 2004, and has been publishing online college rankings since 2009. The organization will be continuing its research of online colleges throughout this year, and publishing over 100 program-specific rankings in 2018 to help connect prospective students with schools that emphasize both academic success and a commitment to affordability. The upcoming rankings will maintain an emphasis on value by providing lists of schools offering online programs that are high quality, affordable, and based in value rather than prestige alone.
About SR Education Group
Headquartered in Kirkland, WA, SR Education Group was founded in 2004 by CEO Sung Rhee. The company's mission is to create authoritative online resources for students seeking an online education program that best suits their budget and career aspirations. SR Education Group is passionate about making quality education attainable for everyone and believes that objective information about education, careers, and educational financing should be free and easily accessible. For more information, please visit https://www.sreducationgroup.org/.