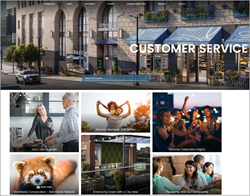 I think it's the best apartment community website I have ever seen. Jonathan Holtzman
DALLAS (PRWEB) October 25, 2017
In starting a new brand, Jonathan Holtzman hired a consultant to determine who in the United States had the best website capabilities that included mobile optimization and creative. After examination, it was determined that Spherexx was the best and continues to be the best. He selected Spherexx.com®, led by Becca Wilson CEO, to provide Internet marketing, branding and web innovation for City Club Apartments, LLC.
City Club is a 100-year-old forward thinking multifamily housing brand according to Mr. Holtzman, Co-partner, who sold Village Green Holding as CEO and Co-owner in 2016. Village Green is a third-party, multifamily management company. City Club's philosophy merges generations of management, development and ownership expertise, commitment to customer service and mixed-use communities.
"Becca offers a unique perspective and insight into our brand of customer service, having hands-on property management experience prior to starting Spherexx in 2000," states Mr. Holtzman.
City Club currently manages ten apartment communities with three mixed-use projects under development. The corporate website recently launched at CityClubApartments.com features what they currently manage, what is under development and construction, commercial space offerings, company news, media, and awards. With many of the 75 million baby boomers returning to cities from the suburbs, City Club offers the type of service that appeals to this broad demographic, along with Generations X, Y, and millennials, young professionals, and affluent metropolitan dwellers.
"Go to CCA CBD Cincinnati website," says Mr. Holtzman. "I think it's the best apartment community website I have ever seen. It has exciting elements like the amenity driven search feature; it has video, mapping, vibrant architectural renderings and 3D floor plans: all accessible from desktop or mobile."
Mr. Holtzman is especially interested in providing a boutique hotel-type lifestyle that provides many choices of design, amenities, services and views. City Club offers apartments with a choice of four finishes in addition to flooring, size, type and location. The website creates a premier "Build Your Own Living Space" program created especially for City Club. The customer can select preferences from a long list of finishes, locations and price ranges. It filters with the selected preferences along with pricing and availability. City Club management can detect website visitors' shopping engagement to determine what items are most popular.
CityClubApartments.com offers extensive editing flexibility that does not require computer proficiency. All content can be easily updated. The corporate intranet shares administrative information to all designated users. Special options include blog, applications for residency, news releases and training modules. Communities can change website banners, update neighborhood locations, photos, FAQs, amenities and unit features, along with a long list of detailed information.
Spherexx has also created a custom, web-based Help Desk application for City Club. The program streamlines problem solving with a ticket system that tracks requests for help with their accounting program and software or hardware issues. It also addresses many other operational issues like requesting training support. It funnels "tickets" into a central dashboard that allows users to follow resolutions and review reports that identify specific, troublesome areas that need special attention.
Spherexx-built ILoveLeasing.com® (a customer relationship management [CRM] software designed specifically for the apartment industry) determines statistical intelligence that identifies their target market and what advertising is reaching that market and what is not. Source attribution and lead segmentation are critical factors in establishing successful advertising investments that focus budget dollars for the best outcome. The software includes an interactive digital brochure that reflects City Club's attention to detail, mixed-use environment and customer service. Each lead can be addressed by telephone, email, or text from desktop, laptop, tablet, or mobile phone through I Love Leasing's mobile companion application. It also includes advertising budget feasibility reports and a sophisticated price quoting feature that integrates with accounting software.
Management staff members are equipped with streamlined follow-up and scheduling features in I Love Leasing along with plugin options such as Adkast syndication, which publishes pricing and content updates for multiple digital advertisements at one time from one dashboard. They also use a Spherexx-developed tablet application called LeasingBook whereby a customer can lease an apartment on the spot with no need to return to an office location. It is available in both Apple® and Microsoft® versions, and it integrates with ILoveLeasing.com for optimum leasing performance.
All Spherexx related services are provided inside a single sign-on service called SweetSpot Dashboard. This dashboard requires City Club users to remember only ONE login and password to access everything that Spherexx provides along with other third-party tools since SweetSpot serves as a password locker for third-party party software.
Spherexx assists City Club with new business development presentations and investor reporting. The company also provides City Club's organic search engine strategies and pay per click advertisements.
ABOUT CITY CLUB APARTMENTS
Founded in 1919, City Club Apartments is the first international apartment brand. City Club Apartments is an owner, developer and manager of apartment, furnished short-term and penthouse mixed-use communities with a portfolio of approximately 10,000 garden, midrise, and high rise apartments in 30 urban and suburban-urban apartment communities, $2 billion in real estate assets and $500 million under development/construction in Cincinnati, Detroit, Chicago, Pittsburgh, Minneapolis, Kansas City, Louisville and the east coast. City Club Apartments is a disruptive company with five guiding principles that include customer centric; design driven; unparalleled amenities; green and social responsibility; and leading technology. The company has offices in Detroit, Chicago and Toronto.
ABOUT SPHEREXX.COM® AD AGENCY | SOFTWARE DEVELOPMENT | BUSINESS INTELLIGENCE
Spherexx.com is recognized as an established leader for website, Internet marketing and software development services since 2000. The company has offices in Tulsa, OK and Dallas, TX; and it has been distinguished as one of INC5000's fastest growing companies.
Spherexx.com® offers a wide selection of professional services including web design and development, touchscreen kiosks, Internet lead generation tools, online advertising, consulting, advanced mobile technology, apartment lease-up marketing consulting, and search engine performance. It also provides branding services, video/multimedia production, print media, and copywriting, as well as website and email hosting, database solutions, pay per click, e-commerce development and custom programming.
Spherexx has developed CRM (customer relationship management) products, marketing and lead generation tools that allow clients to better manage and convert leads to leases and sales and increase property values. These applications are branded under ApartmentWebsites.com™, ILoveLeasing.com®, RentPush.com® Revenue Management Asset Performance, and LeasingBook mobile application. Spherexx develops custom applications for clients with specialized workflow requirements across many industries and locations.