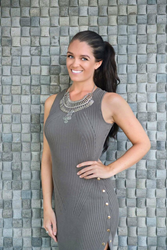 (PRWEB) October 26, 2017
Regan Hillyer International (RHI) is giving away more phenomenal scholarships - worth over $500,000 - to two very lucky teenagers with big dreams! RHI launched The Young Influencers Scholarship earlier this year for a young person with huge dreams who wanted to impact the world.
Regan is a hugely successful 28 year old multi millionaire global change-maker, thought leader, serial entrepreneur, philanthropist, global speaker and mindset coach. She is the founder of Regan Hillyer International; a company dedicated to providing personal development and business training to men and women who have a big message they want to share with the world.
Regan started her entrepreneurial journey at just 17; leveraging her success through investing in her own coaches and mentorships. To this day, she is deeply grateful for the first mentor she ever had that impacted her in the most profound way. It was because her mentor believed in her and because someone 'thought it was possible' for her at such a young age; that it gave her the motivation. This is why she wants to give other young person this unbelievable offer; to give a teenager the belief, the motivation, the mindset tools and strategy to change their life forever.
Regan is always giving back, especially when it comes to education (her charity projects include building schools for underprivileged children). She now she wants to offer this incredible opportunity to a young person to change their life.
Regan has trained thousands upon thousands of people - helping them build multiple six and seven figure businesses location free - using powerful mindset changing tools and cutting edge business development strategies. She specializes in helping experts uncover their true message and launch powerful personal brands, helping them make a big impact and build a legacy.
"I am living and breathing my message that you absolutely can have it all. I am living my dream life and I help others to do the same. I want you to tap into your expansive thinking. I want to you to completely throw out all the old systems and strategies you have ever been taught - and society has ingrained in you - that simply aren't serving you anymore."
The RHI Scholarships For Fall 2017
The Young Woman To Watch Scholarship
This scholarship is awarded annually to a powerful young woman, aged between 13-17 years old, who believes that she incorporates the values of a strong female leader in this world. The young women is committed to creating an impact, standing in their strength as a female - regardless of any past or current challenges of limitations that they have faced.
The Young Philanthropist Scholarship
This scholarship is awarded annually to a powerful young person, aged between 13-17 years old, who is committed to giving back. This person is committed to leaving the world a better place than they found it through contributing to causes that they deeply care about.
What is included in the amazing scholarships prize? Each winner will receive a generous package of over $500K worth of coaching and mentoring including:
Platinum Access to The Be Your Brand Academy live in Los Angeles or Melbourne Australia,
Access to 12 months worth of online mindset coaching through Your Success Hub
Access to the 30 Day Content Creation Challenge
Access to the 5 Week Success Mindset Intensive
Access to the $10k A Month Training
Access to Regan's full Money Mindset Training
Access to the Online Empire Builder 12-Week-Course
Access to 12 months private one on one mentoring with the Head of Coaching at Regan Hillyer International
Access to 12 months one on one private mentoring with Regan herself with direct access and daily support.
Application Process
In order to find a right fit, the successful candidate must adhere to the following criteria:
Must be aged between 13-17 years old.
The young person must know that they are 'here to change the world'.
Please email a short (no longer than 3 minute) video to scholarships(at)reganhillyer(dot)com
In the video please include:
Which scholarship are you applying for?
Why should you receive this scholarship?
What is your big dream to create in the world?
Video applications must be sent to scholarships(at)reganhillyer(dot)com
Deadline: video applications must be sent in no later than Monday November 1st 2017 at midnight (PST).
"I've had a wealth of successes after being awarded the Young influencers scholarship.This scholarship has impacted my life in ways that I can't even put into words and I'm so grateful that I have been able to go on such an amazing journey with Regan and all these amazing people. So if you yourself or even perhaps someone that you know, has an amazing message and you really feel a burning desire to share that message with the world - in the most effective way - definitely, I would recommend applying for the scholarship and taking that first step towards your success your and impacting the world!" - Lashai Ben Salmi, 16, RHI Scholarship winner.
RHI rewards people that move fast and are super committed! We wish all the young applicants good luck and success.
http://reganhillyer.com/