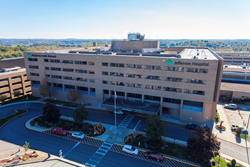 We've come a long way in the last 40 years, but throughout that journey we have never lost sight of our mission to provide compassionate, high-quality, patient-centered health care for the people in the communities we serve.
JEFFERSON HILLS, Pa. (PRWEB) October 26, 2017
Jefferson Hospital, part of the Allegheny Health Network (AHN), will celebrate four decades of caring for the people of the South Hills and lower Mon Valley with a special dinner, "A Time to Reminisce and Recognize: 1977 to 2017," tonight at South Hills Country Club. The hospital first opened the doors at its current Coal Valley Road location in Jefferson Hills in May 1977.
"We've come a long way in the last 40 years, but throughout that journey we have never lost sight of our mission to provide compassionate, high-quality, patient-centered health care for the people in the communities we serve," said Louise Urban, President and CEO, Jefferson Hospital. "As we pause to look back and remember all the wonderful people who helped us get to where we are today, we also are excited to look ahead to the next 40 years and beyond of continuing to care for the people in our communities."
Jefferson Hospital's roots actually date back to the turn of the 20th century with the founding of Homestead and St. Joseph's hospitals. By the early 1970s, the boards of directors of Homestead and St. Joseph's hospitals recognized an opportunity to provide more comprehensive health care services to the rapidly growing southern suburban communities of Pittsburgh. In 1973, the two hospitals consolidated to form South Hills Health System, which opened its Jefferson Hills facility in 1977 and eventually changed its name to Jefferson Regional Medical Center.
In 2013, the hospital's board of directors once again saw an opportunity to expand Jefferson's service offerings and better serve the needs of those living in the South Hills communities by partnering with Highmark and becoming part of the AHN.
"Jefferson Hospital is an essential component of our network whose legacy of excellence in patient care has served Jefferson Hills and its neighboring communities with distinction for many years," said Cynthia Hundorfean, President and CEO, AHN. "On behalf of the leadership of AHN and Highmark Health, I am extremely honored and proud to join all the exceptional caregivers, administrators, and supporters of Jefferson as we celebrate its history and look forward to its bright future and continuing role as the community's premier health care provider."
Just last week, AHN and Highmark Health announced plans for a $700 million capital investment in new hospitals and upgrades to existing facilities across the Network. Those investments will include an expansion and renovation of Jefferson Hospital's emergency department, where more than 45,000 patients seek emergency care each year. The new emergency department will feature spacious, comfortable waiting areas and the latest advanced technologies to help caregivers triage, diagnose, and treat patients more effectively and efficiently. Work on the project is expected to start in the first quarter of 2018.
The new emergency department will complement numerous significant investments that AHN has made in Jefferson since 2013, including the opening of both a new Cancer Institute and a new Women and Infants Center in 2014. As the first new obstetrics unit to be built in the state in more than 30 years, the program's caregivers have delivered nearly 3,000 babies to date at the hospital. In recent years, Jefferson Hospital also opened a $17.5 million surgical suite that features a minimally invasive vascular suite and minimally invasive suites for orthopaedics and general surgery.
"As we mark 40 years of providing outstanding care at Jefferson, we continue to grow and flourish," said Chong Park, MD, Chief Medical Officer, Jefferson Hospital. "In addition to our recent investments in cancer care and women's health, over the last decade we have strengthened our leading open-heart surgery and cardiovascular disease programs, and we have brought many other highly specialized services to the community, such as neurology and neurosurgery.
"At Jefferson, we have always taken great pride in caring for our friends, our family, and our community," added Dr. Park. "That's what makes Jefferson a special place and a true community asset."
About Jefferson Hospital
Jefferson Hospital, a part of Allegheny Health Network (AHN), is a full-service inpatient facility located in Jefferson Hills that serves the South Hills of Pittsburgh and lower Mon Valley. Featuring a medical staff of nearly 400 physicians covering more than 40 health care specialties, the hospital provides comprehensive inpatient and outpatient surgical services, and emergency care. It features a Cardiovascular Institute, Cancer Institute, Orthopaedic Institute, Women and Infants Center, Women's Diagnostic Center, Sleep Disorders Center, and Wound Care Center among other services. Jefferson Hospital also includes the Bethel Park Health + Wellness Pavilion as well as several outpatient, primary care, and therapy sites across the South Hills and lower Mon Valley.
About the Allegheny Health Network
Allegheny Health Network (AHN.org), a Highmark Health company, is an integrated healthcare delivery system serving the greater Western Pennsylvania region. The Network is composed of eight hospitals, including Allegheny General Hospital, its flagship academic medical center in Pittsburgh, Allegheny Valley Hospital in Natrona Heights, Canonsburg Hospital in Canonsburg, Forbes Hospital in Monroeville, Jefferson Hospital in Jefferson Hills, Saint Vincent Hospital in Erie, West Penn Hospital in Pittsburgh and Westfield Memorial Hospital in Westfield, NY. The Network provides patients with access to a complete spectrum of advanced medical services, including nationally recognized programs for primary and emergency care, cardiovascular disease, cancer care, orthopedic surgery, neurology and neurosurgery, women's health, diabetes and more. It also is home to a comprehensive research institute; Health + Wellness Pavilions; an employed physician organization, home and community based health services and a group purchasing organization. The Network employs approximately 17,000 people, has more than 2,800 physicians on its medical staff and serves as a clinical campus for Drexel University College of Medicine, Temple University School of Medicine, and the Lake Erie College of Osteopathic Medicine.