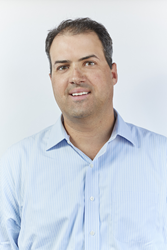 "By actually aligning measurement to real business goals, implementing proper data feedback loops and creative tagging, and producing high volumes of personalized, quality creative, we can drive true incrementality on ad dollars." - Bill Masterson, President and CEO, Decoded Advanced Media
NEW YORK (PRWEB) October 25, 2017
Decoded Advertising, which designed the first truly integrated creative, tech and media process for performance advertisers, has officially launched its new media agency, Decoded Advanced Media (DAM), with Bill Masterson joining as President and Chief Executive Officer.
Decoded Advanced Media will manage media across all major exchanges and large digital platforms, including: Facebook, Instagram, Google, YouTube, Twitter, Snapchat, Pinterest, and Amazon. It will be working with clients focused on driving measurable business objectives by offering a breakthrough approach designed to take advantage of the huge amount of untapped performance gains available through proper optimization -- with particular attention to creative optimization, where 70% of those gains can be achieved.
Masterson brings unparalleled of experience to the Decoded family. Most recently, he led Twitter's Global Advertising Performance team, which oversaw the Official Partner program for companies that utilized the Twitter Ads API to manage advertising campaigns.
"We're excited by this huge new opportunity because many of the problems that Decoded plans to solve were uncovered by first-hand observations of the challenges marketers experience when working with companies that use ad APIs to manage media," said Masterson. "By actually aligning measurement to real business goals, implementing proper data feedback loops and creative tagging, and producing high volumes of personalized, quality creative, we can drive true incrementality on ad dollars. Many agencies and marketing partners use these words but can't really implement them in practice. Decoded has done this repeatedly for clients over the last year and spent the better part of three years perfecting the process."
Matt Rednor, Chairman and CEO of Decoded added, "This is another big step in the evolution of Decoded into the premier agency delivering breakthrough ideas that perform. Every advertiser should welcome the opportunity to win both the creative and efficiency game in this new era defined by real-time performance measurability. Finding the right person to work alongside a creative agency was of utmost importance. We had already found creative leads in David Weinstock and James Stephens who understood the intrinsic benefit of media, and now in Bill, we find that reciprocal interest in creative that ensures Decoded's success."
Prior to Twitter, Masterson was the Chief Revenue Officer at SocialCode and has spent more than 20 years working with top marketers at Facebook, Google and Advertising.com. The DAM staff will absorb the current media operations at Decoded which manages several million dollars a month in media spend.
About Decoded:
Decoded has the first truly integrated creative, tech and media process designed to drive better performance for brands by uncovering the levers that produce powerful ideas. Built from the ground up by award-winning creatives, top data scientists and cutting-edge media people willing to defect from the old model to create smarter work, Decoded services global clients like Booking.com, GE, Visa, and 21st Century Fox from its offices in NYC and LA.