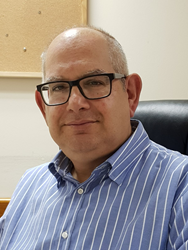 Philadelphia, PA (PRWEB) October 26, 2017
The Foreign Policy Research Institute is pleased to announce that Joshua Krasna will be joining its Program on the Middle East as a Robert A. Fox Fellow.
Dr. Krasna recently retired after 30 years of service in Israel that included postings as an Israeli diplomat in Jordan and Canada. His last assignment before retirement was as an Instructor at Israel's senior professional military education school the Israel National Defense College. While there, he mentored and led teams of senior military and civilian students, taught courses on intelligence and national security, and served as lead instructor for the economic and social tracks of the program.
A specialist in Middle East political and regional developments and forecasting, Krasna holds a PhD from the Bar Ilan University and is a graduate of Columbia University and the Johns Hopkins School of Advanced International Studies. He has published articles in the Journal of Conflict Studies and Contemporary Security Policy, and is proficient in Hebrew and Arabic.
As part of his fellowship with FPRI, Dr. Krasna will be writing on topics related to the Israeli national security landscape, politics of defense and foreign policy in Israel, and the future of Middle East politics and security in an era of increased power competition and socio-political crisis.
In his first piece for FPRI, "Israel's National Security since the Yom Kippur War," Dr. Krasna examines the security ramifications of the Yom Kippur War over four decades later. He argues that "Israel's security situation is better than at almost any time since the State's founding. There is no current existential threat to the State of Israel. Israel has won the conventional military struggle, and no army credibly threatens Israel's security." Additionally, Dr. Krasna explains the ways in which the Yom Kippur War has acted as a "cementing and unifying force in Israeli society."
"We look forward to Dr. Krasna combining the insights of his long, accomplished career and his regional expertise with FPRI's time-tested geopolitical approach to weigh in on the most pressing foreign policy and national security debates taking place in this country," said Tally Helfont, Director of the Program on the Middle East.
About the Program on the Middle East
FPRI's Program on the Middle East provides informed analysis on regional developments to policymakers, academics, journalists, educators, and others invested in the Middle East. It also seeks to build partnerships with like-minded individuals and institutions, providing them with a platform for analyses and critiques from the region.
FPRI is a non-profit, non-partisan think tank located in Center City Philadelphia. Its mission is to bring the insights of scholarship to bear on the foreign policy and national security challenges facing the United States. It seeks to educate the public, teach teachers, train students, and offer ideas to advance U.S. national interest through the lens of history, geography, and culture.