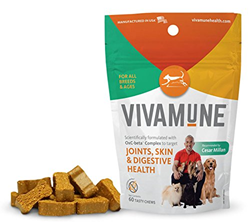 Vivamune™ has shown remarkable results with our pack already, and I'm excited to help this innovative Canadian company share its product with more people. (Cesar Millan, 2017)
Ottawa, ON (PRWEB) October 30, 2017
Ottawa, ON Avivagen Inc. (Avivagen | TSXV: VIV, OTC Pink: CHEXF), a life sciences innovation company with a series of patent protected products that support and optimize animal health, is excited to announce the relaunch of its Vivamune™ Health Chew supplement (Vivamune) for dogs in the U.S.
"My focus has always been on products that really work for dogs," Cesar Millan commented. "I have a team of veterinarians that I work with to help evaluate products. Everyone was impressed with Vivamune Health Chews. Vivamune has shown remarkable results with our pack already and I'm excited to help this innovative Canadian company share its product with more people."
At the heart of Vivamune is an active substance, called OxC-beta™ (OxC-beta) compound, Avivagen's proprietary formulation of fully oxidized β-carotene. OxC-beta benefits animal health through a novel combination of effects upon the animal's own immune system.
Vivamune provides dogs with a unique combination of health benefits, including support for skin, joint and gut health. Vivamune soothes skin-related issues due to seasonal allergies and maintains overall skin quality; it eases stiffness and promotes healthy hip and joint function.
This once-a-day chew simplifies a dog's daily supplement routine by providing a pet with comprehensive support against the most common canine health problems— skin and joint issues — while also providing proactive, protective immune function abilities. "It's vibrant health made simple. That's it!" says Cesar Millan.
Combining Vivamune's capabilities with an enthusiastic endorsement from Cesar Millan, who is featured on the new packaging, as well as a multi-faceted marketing and rebranding campaign, Avivagen believes that Vivamune is positioned to increase both brand awareness and market share.
Vivamune retails for US $24.95/60 chew pack. Avivagen is currently seeking distribution partnerships, as well as online and in-store retail opportunities. The product is available only in the U.S. and is made in U.S. facilities.
To learn more, visit http://www.vivamunehealth.com, or contact us at avivagen@avivagen.com, or follow us on Facebook, https://www.facebook.com/vivamune/, Instagram, @vivamune, and YouTube, http://www.youtube.com/c/Vivamunehealth (The contents of these sites are not incorporated by reference in this press release.)
About Cesar Millan
New York Times best-selling author and twice Emmy-nominated television personality Cesar Millan has earned a trusted reputation as the preeminent authority in the field of dog rehabilitation. With more than 25 years of experience working with canines, Millan uses a philosophy of trust, respect and love to rehabilitate aggressive, frightened and neurotic dogs while educating owners on how their own behavior affects their pets. Millan extends his reputation in dog training and care through retail and home entertainment products, books and Cesarsway.com, which have become top resources for dog help and advice; through the ongoing work of the Cesar Millan Pack Project; and through connecting with TV audiences via his television series, Cesar Millan's Dog Nation. For more information, visit http://www.cesarsway.com. Follow Cesar on Facebook (cesar.millan), Twitter (@cesarmillan) and YouTube (CesarMillan).
See:
https://www.facebook.com/cesar.millan/
https://twitter.com/cesarmillan (@cesarmillan)
https://www.instagram.com/cesarsway/
https://www.youtube.com/user/CesarMillan
https://www.cesarsway.com/
These social media channels and websites are maintained by third parties and they are expressly not incorporated by reference in this press release by Avivagen. Avivagen has no control or responsibility for the content of such social media channels and websites and Avivagen should not be taken as endorsing or agreeing with any information contained therein.
About Avivagen
Avivagen Inc. is a life sciences corporation that has developed a scientifically-proven product for replacing antibiotics in livestock feeds and to otherwise benefit human and animal health. Avivagen is based in partnership facilities of the National Research Council of Canada (NRC) in Ottawa, Ontario and Charlottetown, Prince Edward Island. For more information, visit http://www.avivagen.com.
About Vivamune™ Health Chews (Vivamune)
Vivamune is an all-in-one chew that can dramatically simplify a pet's supplement routine. Featuring a newly-discovered, novel immune-supporting active ingredient: OxC-beta™ compound, Vivamune targets joints, skin and digestive health all in a single, tasty chew a pet will love. Vivamune is available for sale in the US. For more information, visit http://www.vivamunehealth.com.
About OxC-beta™ Technology (OxC-beta)
OxC-beta, Avivagen's proprietary formulation of fully oxidized β-carotene exhibits promising health benefits in animals and potentially humans. Laboratory studies and animal trials that have established the novel, underlying basis of OxC-beta's immune function support have been reported in peer-reviewed scientific publications.
Forward Looking Statements
This news release includes certain forward-looking statements that are based upon the current expectations of management. Forward-looking statements involve risks and uncertainties associated with the business of Avivagen Inc. and the environment in which the business operates. Any statements contained herein that are not statements of historical facts may be deemed to be forward-looking, including those identified by the expressions "aim", "anticipate", "appear", "believe", "consider", "could", "estimate", "expect", "if", "intend", "goal", "helps", "hope", "likely", "may", "plan", "possibly", "potentially", "pursue", "seem", "should", "whether", "will", "would" and similar expressions or opinions of management. Without limiting the generality of the foregoing, statements regarding Vivamune's ability to increase its brand awareness or market share, the potential effects or reach of the marketing campaigns described above and any statements about the potential for use of Avivagen's products in humans and animals are all forward looking statements. Avivagen faces risks and uncertainties in connection with its business, including, but not limited to, the following: whether Avivagen's relaunch of its Vivimune product will be successful, its marketing campaign may not have the desired effects, whether Vivimune can deliver the benefits described in this press release to any or all dogs, if at all, whether Vivimune can promote or support dogs' skin, joints and gut health, normal mobility, or support dogs with occasional stiffness, or maintain healthy hip and joint function, relieve stiffness, promote healthy skin and soothe skin-related issues associated with seasonal allergies in any or all dogs, if at all, Avivagen's ability to continue as a going concern, if Avivagen can commercialize products to replace the antibiotics used in livestock feeds, if it can accelerate market access and the commercial uptake of its OxC-beta™ Livestock product and its Vivimune Health Chews supplement, whether OxC-beta™ will continue to show promising benefits for humans and animals alike; whether Avivagen can continue to protect its intellectual property; if Avivagen's innovative products have the potential to eliminate the use of antibiotics as growth promoters in livestock feed.
Readers should also refer to the risk factors in Avivagen's Annual Information Form and other securities law filings from time to time. Accordingly, readers should not place undue or even any reliance on forward-looking statements. Except as required by law, Avivagen assumes no obligation to update the forward-looking statements, or to update the reasons why actual results could differ from those reflected in the forward-looking statements.
Neither TSX Venture Exchange nor its Regulation Services Provider (as that term is defined in the policies of the TSX Venture Exchange) accepts responsibility for the adequacy or accuracy of this release.
For more information:
Avivagen Inc.
Drew Basek, Director of Investor Relations
100 Sussex Drive, Ottawa, Ontario, Canada K1A 0R6
Phone: 416-540-0733
E-mail: d.basek@avivagen.com
Kym Anthony, Chief Executive Officer
100 Sussex Drive, Ottawa, Ontario, Canada K1A 0R6
Head Office Phone: 613-949-8164
Website: http://www.avivagen.com