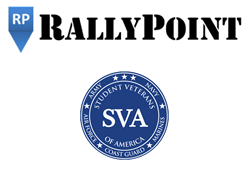 WATERTOWN, Mass. (PRWEB) October 25, 2017
As of today, the premier online network for the military community, RallyPoint, is announcing a strategic partnership with Student Veterans of America (SVA) – the leading coalition of student-veteran groups on college campuses across the globe. This partnership unites their missions and channels them toward offering the military community unparalleled access to education and opportunity, ultimately allowing military members to achieve their goals.
"RallyPoint is a community built on trust, connection and peer-support," says RallyPoint CEO, Dave Gowel. "SVA is an organization that authentically projects these values and makes it easier for any member of the military community who is already furthering their education, or considering this next step to achieve more at any stage of their lives. In partnering with SVA, we seek to arm our members with the educational content and connections in higher education that will undoubtedly help them lead more successful lives."
RallyPoint will continue to use its unique technology to benefit its massive network of military members, but will now deliver SVA content and resources in support of the educational needs of the military community. These resources include and stem from research from its recently published National Veteran Education Success Tracker (NVEST) report, as well as educational content which will be promoted throughout the platform – giving RallyPoint's member base the insights it needs into higher education, at the times when members can benefit from them most.
"SVA is excited to expand our partnership with RallyPoint in support of the educational goals of our military and student veteran community," states Jared Lyon, President and CEO of SVA. "With the passage of the Forever GI Bill, veterans now have lifetime access to education benefits. Data shows, however, that too many of them are not aware of their benefits or how to most effectively use them. We're thrilled that RallyPoint is partnering with us to help share SVA's research on these areas at a greater scale to meaningfully impact our military community."
RallyPoint is the largest military-focused online network in the world, with nearly 1.4 million service members, veterans and civilians who have registered as members. Today, the platform supports more than 100 customers who leverage RallyPoint to reach the military and veteran communities in a highly targeted manner through talent and marketing product lines. And as the network grows, so does its robust board of directors. Earlier this quarter, the 8th Secretary of the VA and retired Chairman, President and Chief Executive Officer of The Procter and Gamble Company, Bob McDonald was named Chairman of the board at RallyPoint, infusing his exceptional and unique experience in military, business and government roles into the rapidly growing network.
"I am pleased to see our relationship grow with SVA because the military community deserves the best educational opportunities to succeed both while in uniform and post-transition," said Secretary McDonald. "I came to RallyPoint following my service in the government because it's clear to me how our platform's impact and growth is enabling an unprecedented connectivity between our military members and the peers, companies and organizations who stimulate life-changing opportunities. SVA is a perfect example of a great partner making this connectivity a priority."
Over one million monthly visitors have made RallyPoint a preferred online medium to participate in more than 200,000 discussions spanning all aspects of military and veteran life, adding 10,000+ discussions every month. With a mission to help all members of the military community lead more successful and fulfilling lives, the company seeks to make it easy for members, veteran service organizations and incredible companies to come together around a shared U.S. military experience and interest on one platform, accessible from anywhere in the world.
ABOUT RALLYPOINT:
RallyPoint is the online platform where warriors talk. With nearly 1.4 million members, RallyPoint is the premier network for military service members and veterans to come together and discuss military life through both professional and personal perspectives. Visit http://www.RallyPoint.com to learn more, and follow RallyPoint on Facebook and Twitter @RallyPoint.
ABOUT STUDENT VETERANS OF AMERICA:
SVA is the country's premier organization for student veterans. SVA supports all veterans through their transition from the military, educational advancement and career growth. SVA represents a network of nearly 1,500 chapters on campuses in all 50 states and four countries representing over 600,000 student veterans at those colleges and universities. For more information, visit http://www.studentveterans.org.