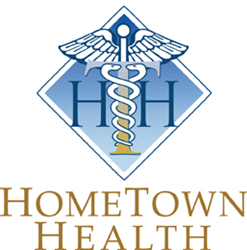 These awards are the 'tip of our hat' to individuals who are vital parts of their healthcare systems for all the right reasons
PINE MOUNTAIN, Ga. (PRWEB) October 27, 2017
HomeTown Health, LLC held its 18th Annual Fall Conference at Callaway Gardens in Pine Mountain, Georgia, October 18-20th with over 200 hospital members and business partners in attendance. The Fall Conference includes breakout sessions and presentations from industry experts, established public figures and healthcare leaders on a local and state level. Additionally, it is a time where HomeTown Health recognizes key employees for their success at their facility during the previous year.
Evans Memorial Hospital in Claxton, Georgia was named the 2017 HomeTown Health Hospital of the Year. Evans Memorial Hospital was chosen for providing exemplary leadership by adopting "best Practices" for rural hospital improvement, and making a commitment to staff education, advocating to state policymakers while emphasizing technological advances and superior patient care."
Michael Purvis of Cook County Medical Center, was recognized as the recipient of the 2017 Hospital Leader of the Year award, "for exemplary leadership and a lifetime of dedication to patient care, employee excellence, and efforts leading to the survival of Cook County Medical Center in Adel, Georgia."
Shamb Purohit, CFO at Colquitt Regional Medical Center, as the recipient of the 2017 CFO of the Year award, "This award is presented each year by HomeTown Health to Chief Financial Officers who exhibit extraordinary talents and skills in positively influencing the delivery of rural health care in Georgia."
Tracy Lee of Mountain Lakes Memorial Hospital was announced as the 2017 Business Office Director of the Year, "chosen for outstanding leadership in sharing best practices in the business office and for her commitment to excellence, to employee education, business partner endorsement and revenue cycle improvement."
Shawn Whitaker, RN, of Miller County Hospital/Hospital Authority of Miller County, was recognized as the 2017 Nurse Executive of the Year, for providing exceptional leadership by adopting "Best Practices" for rural hospital improvement, for her well-established commitment to staff education and leadership development, and her dedication to superior patient care while emphasizing technological advances at her facility.
SouthlandMD, a platinum level business partner with HomeTown Health, was presented the "2017 Business Partner of the Year" award. "This coveted award is presented each year by HomeTown Health to one of 60 Business partners who exhibit extraordinary support and dedication to HomeTown Health hospitals, commitment to excellence, exceptional customer service, and for their tireless efforts in helping rural hospitals survive," said HomeTown's CEO Jimmy Lewis.
In addition to the awards presented, HomeTown Health recognized the graduates of its 2017 Leadership Development Program. The HomeTown Health Leadership Development program is designed to better equip the rural hospital industry with leadership to transform into tomorrow's health care delivery system. Each year, hospitals nominate outstanding leaders from within their organizations for this intensive study and professional development program focused on providing them with skills and information to better serve their hospital in the future.
The 2017 Leadership Graduates who are members of healthcare/hospital teams are:
Josh Forbes, Environment of Care Manager, Effingham Health System
Clay Jones - COO, ERH, LLC.
Michelle Murphy, Director of Quality, Appling Hospital
Karen Harden Oneal – HIM Manager, Effingham Health System
Lindsay Smith – Practice Manager, Emanuel Medical Center
Karie Spence – HR Director, Miller County Hospital
Tony Waters – IT Director, Emanuel Medical Center
In addition to hospital participants, a limited number of best practice Business Partners are given the opportunity to nominate a member of their team into the Leadership Program. 2017 Graduates who are members of Business Partner teams are: Lauren Adair, Account Manager at CPSI; Reeya Patel,Health IT Analyst at Azalea Health, and Helen Williams, Director of Practice Management Services at Azalea Health
HomeTown Health also includes at least one member of its staff in the development program each year. This year's graduate is Evelyn Leadbetter who serves as Network Services Manager.
HomeTown Health is an organization of over 70 hospitals throughout the Southeast United States, with additional services through grant programs and education that spread nationwide. With a focus on rural healthcare, HomeTown Health offers services, education and resources to hospitals which serve rural populations, who are located in rural areas, and who face unique challenges as healthcare providers based on their location, classification and community size. Learn more about HomeTown Health at http://www.hometownhealthonline.com and more about its online education at http://www.hthu.net. Additional photos of awards winners are available on the HomeTown Health Facebook page.