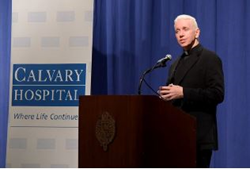 BRONX, N.Y. (PRWEB) October 25, 2017
Calvary Hospital hosted its 11th Annual Spiritual Care Day on Wed. Oct. 18. More than 140 people attended this year's event, entitled "Sacred Encounters: Bringing Light to the Darkness," which took place for the second consecutive year at Fordham University's Lincoln Center Campus.
The event's keynote speaker was Father Edward L. Beck, C.P., CNN faith and religion commentator. He gave a thought-provoking presentation on the need for healing among caregivers. He discussed that one should not run from one's weaknesses, recognizing that God "speaks" through various messengers, expect that others may hamper your own healing — and ability — to care for patients, and what the source of healing really is. Father Beck stated that pride is often the source of suffering and that humility is the solution.
Break out sessions were offered on topics such as Sacred Space and Prayer; Issues at the End of Life; The Importance of Empathetic Listening at the End of Life; and Delirium, Depression and Spiritual Suffering. Workshop speakers included experts from throughout the hospital.
About the Company:
Since 1899, Calvary Hospital has been the nation's only fully accredited acute care specialty hospital devoted exclusively to providing palliative care to adult patients with advanced cancer and other life-limiting illnesses. Each year, thousands of patients receive CalvaryCare throughout the greater New York area. To learn how Calvary can help you and your family, please visit http://www.calvaryhospital.org.