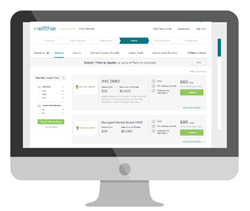 The Wellthie business model is going to help busy producers in Ohio maximize their efficiency during open enrollment this year, and we are excited to have IHC ancillary products as part of that equation.
MINNEAPOLIS (PRWEB) October 26, 2017
Independence Holding Company (NYSE: IHC), one of the nation's leading providers of ancillary benefits for employer groups and individuals, announced today a partnership with Wellthie, an insurance technology company offering cutting edge sales technology to producer and carrier partners that wish to modernize their distribution process.
The partnership will allow producers who utilize Wellthie's first-of-its-kind platform – Wellthie Small Group – to easily quote IHC's group dental and medical products for their small group clients. Initially, a selection of IHC's plans will be available in Ohio. Wellthie and IHC expect that more IHC ancillary offerings, as well as more states, will be available in early 2018 as Wellthie and IHC quickly expand their partnership.
Wellthie's comprehensive marketplace allows producers to shop multiple carriers for their small employer group clients who are looking for employer-based health insurance. Through the Wellthie-IHC partnership, producers can shop from among top medical carriers as well as IHC's dental and Perq offerings. Wellthie's platform enables producers to quote a combination of products with a single census and single proposal, with the ability to instantly model out various contribution strategies and easily enroll in IHC plans.
"The Wellthie business model is going to help busy producers in Ohio maximize their efficiency during open enrollment this year," said Dave Keller, Chief Sales and Marketing Officer of IHC Specialty Benefits, "and we are excited to have IHC ancillary products as part of that equation."
"We are thrilled to be entering into such an innovative distribution partnership with IHC. Together, we will provide producers with a modern and flexible technology that transforms the way they sell and offer more value to their small business customers – a win-win for both IHC, their producers and the small business owners," said Sally Poblete, Founder and CEO of Wellthie.
Wellthie Small Group is available to carriers and brokers nationwide.
For information about IHC or to learn more about the Wellthie partnership, please contact Dave Keller at Dave.Keller(at)ihcgroup(dot)com or (952) 746-6614. If you are an IHC broker in Ohio and are interested in having access to Wellthie, please visit https://www.wellthie.com/ihc-partnership/.
About The IHC Group
Independence Holding Company (NYSE: IHC) is a holding company that is principally engaged in underwriting, administering and/or distributing group and individual specialty benefit products, including disability, supplemental health, pet, and group life insurance through its subsidiaries since 1980. The IHC Group owns three insurance companies (Standard Security Life Insurance Company of New York, Madison National Life Insurance Company, Inc. and Independence American Insurance Company), and IHC Specialty Benefits, Inc., a technology-driven insurance sales and marketing company that creates value for insurance producers, carriers and consumers (both individuals and small businesses) through a suite of proprietary tools and products (including ACA plans and small group medical stop-loss). All products are placed with highly rated carriers.
"IHC" and "The IHC Group" are the brand names for plans, products and services provided by one or more of the subsidiaries and affiliate member companies of The IHC Group ("IHC Entities"). Plans, products and services are solely and only provided by one or more IHC Entities specified on the plan, product or service contract, not The IHC Group. Not all plans, products and services are available in each state.
About Wellthie
Wellthie is a leading provider of next-generation technology solutions to help insurance carriers and brokers thrive in the retail age. The company's cloud-based e-commerce platform modernizes the way brokers sell insurance to small businesses and individuals.
Forward-looking Statements
Certain statements and information contained in this release may be considered "forward-looking statements," such as statements relating to management's views with respect to future events and financial performance. Such forward-looking statements are subject to risks, uncertainties and other factors that could cause actual results to differ materially from historical experience or from future results expressed or implied by such forward-looking statements. Potential risks and uncertainties include, but are not limited to, economic conditions in the markets in which IHC operates, new federal or state governmental regulation, IHC's ability to effectively operate, integrate and leverage any past or future strategic acquisition, and other factors which can be found in IHC's other news releases and filings with the Securities and Exchange Commission. IHC expressly disclaims any duty to update its forward-looking statements unless required by applicable law.