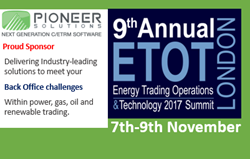 "As a proud sponsor, Pioneer Solutions looks forward to engage with the ETOT delegates and discuss how current times call for a new approach with next generation technology at a lower cost of ownership that cannot be met with legacy solutions."
(PRWEB) November 01, 2017
Pioneer Solutions, a leading provider of commodity trading and risk management solutions, announced today that it will join the 9th Energy Trading Operations & Technology Summit (ETOT) as a sponsor on 7-9 November in London. ETOT is a focused event empowering 180+ energy back office and IT professionals to discuss best practices and ways of overcoming, as an industry, the most pressing challenges around operational and technology issues.
"Pioneer is an industry leader when it comes to back-office solutions that help automate and streamline processes around trade processing, settlement and regulatory reporting," said Hugo Stappers, Director of Sales & Marketing for Pioneer EMEA. "As a proud sponsor, Pioneer Solutions looks forward to engage with the ETOT delegates and discuss how current times call for a new approach with next generation technology at a lower cost of ownership that cannot be met with legacy solutions."
Spread over two days of presentations, panel discussions and case studies, this year's edition of ETOT focuses on Energy Trading Transformation, Back Office, and Technology. ETOT will be bringing together expert practitioners from leading energy trading companies, to share best practices and insights.
More information can be found at: ETOT Summit
About Pioneer
Pioneer Solutions is a global provider of C/ETRM, environmental management and financial and regulatory compliance solutions. Serving utilities and trading companies across the globe, Pioneer's Suite of flexible software applications deliver easy-to-use and integrated functionality for Trade Capture, Position Analysis, Portfolio Management, Risk Reporting and Settlement, thereby providing the insight and granularity to manage operations optimally. Our pioneering and award-winning software offers a user-configurable environment and designed for rapid deployment resulting in a lower total cost of ownership and enhanced customer satisfaction.