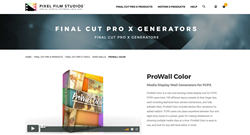 This FCPX Plugin comes with 100 different layout choices.
ALISO VIEJO, Calif. (PRWEB) October 27, 2017
ProWall Color is a new and exciting media display tool for FCPX. FCPX users have 100 different layout presets at their finger tips, each including keyframe-less camera interactions, and fully-editable titles. ProWall Color includes Motion Blur variations for added realism. FCPX users can place anywhere between four and eight drop zones in a preset, great for making slideshows or showing multiple media clips at a time. ProWall Color is easy to use, and built for any skill-level Final Cut Pro X editor in mind.
ProWall Color includes 100 different unique layout choices. Every preset contains anywhere from four to eight Drop Zones allowing the user to place their desired Media into each generator. Each individual preset includes an option without Motion Blur for faster render and export times, and one with Motion Blur for added realism and style.
ProWall Color presets include multiple drop zones. FCPX users can place in pictures or video clips into each preset, allowing each preset to be used universally. Each drop zone has inner pan and scale features allowing the user to re-position their media how they see fit, within each drop zone. Every preset contains a unique kinetic camera movement, saving the user valuable time without the need to animate.
Every ProWall Color preset includes style controls, allowing the user to add text and change fonts, change colors, and much more. Each preset includes shadow and reflection controls, enhancing the third dimensional realism. ProWall Color allows the user to add and display messages over each media panel, complimenting each piece of media.
ProWall Color is exclusive to Final Cut Pro X. These FCPX generators are simply applied to the timeline, and modified to the users liking. Every preset contains two variations, one with Motion Blur, in addition to one without Motion Blur. Motion blur implies a realistic look but may therefore may require longer render times. Editable text allows the user to display messages throughout each generator. ProWall Color is designed for any skill level editor, from novice to advanced users.
stablished in 2006, Aliso Viejo, California-based Pixel Film Studios is an innovative developer of visual effects tools for the post-production and broadcast community. Their products are integrated with popular non-linear editing and compositing products from Apple FCPX. Apple, the Apple logo, Mac OS X, and Macintosh are registered trademarks of Apple Inc. in the U.S. and/or other countries. All other trademarks and trade names are the property of their respective owners.