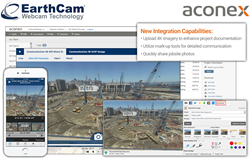 Like Aconex, EarthCam serves international customers in many industry sectors including infrastructure, sports stadiums, and healthcare.
New York, NY (PRWEB) October 25, 2017
EarthCam, the world's leading provider of construction camera technology and services, has teamed with Aconex, the #1 digital delivery platform in the world for construction, infrastructure, energy and resource projects, to integrate its high-quality imagery content into their user platform, the companies announced today.
"Like Aconex, EarthCam serves international customers in many industry sectors including infrastructure, sports stadiums, and healthcare. Our shared expertise with projects spanning a wide variety of applications further highlights the synergies between our two companies," said Brian Cury, CEO & Founder of EarthCam. "This partnership allows us to further our goal of providing industry professionals with the most valuable visual content to efficiently analyze and communicate project progress."
Through this strategic relationship, Aconex is now able to offer their users the highest-quality megapixel imagery in the industry to document important construction projects of all sizes. Photos are shareable via the Aconex dashboard and can streamline the ability to make informed decisions more efficiently.
"Massive amounts of data are generated on projects, managed across a range of applications. At Aconex, we understand the potential to use this data to drive efficiencies and improve the bottom line," says Rob Phillpot, Aconex Co-Founder and SVP Product & Engineering. "We are constantly expanding our ecosystem by connecting our users with powerful service providers like EarthCam, empowering our user network to extract that value from their data. With a single, consolidated view of all project information in Aconex, our clients can get clearer insights and make fast, informed decisions."
EarthCam provides high-quality construction camera content for Aconex users. The images, along with other critical jobsite data, will be available within one central interface in the Aconex platform. Users can easily view, markup and share the visual content, while staying informed by regularly updating images for a quick look at jobsite activity and quality control of subcontractors.
To learn more about EarthCam's integration with Aconex, please visit http://www.earthcam.net/aconex.
ABOUT EARTHCAM
EarthCam is the global leader in providing webcam content, technology and services. Founded in 1996, EarthCam provides live streaming video, time-lapse construction cameras and photography documentation for corporate and government clients in major cities around the world. EarthCam leads the industry with the highest resolution imagery available, including the world's first outdoor gigapixel panorama camera system. This patent-pending technology delivers superior multi-billion pixel clarity for monitoring and archiving important projects and events across the globe. In 2016, EarthCam documented $225 billion of construction projects. The company is currently expanding its 10-acre campus in Northern New Jersey and maintains 13 additional offices worldwide.
Projects documented by EarthCam include: Hudson Yards, Panama Canal Expansion, 9/11 Memorial Museum, Atlanta Falcons' Mercedes-Benz Stadium, Barclays Center, Statue of Liberty and Washington Monument Restorations, New NY Bridge, LaGuardia Airport, The Jeddah Tower, 56 Leonard Street, 432 Park Avenue, Brickell City Centre, Minnesota Vikings' U.S. Bank Stadium, Qatar Rail, Whitney Museum of American Art, Louvre in Abu Dhabi and Smithsonian National Museum of African American History and Culture.
Learn more about EarthCam's innovative solutions at http://www.earthcam.net.