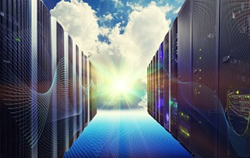 BOULDER, Colo. (PRWEB) October 26, 2017
Enterprise Management Associates (EMA), a leading IT and data management research and consulting firm, today announced it will host a webinar titled "The Cloudification of the Data Center Network," featuring Shamus McGillicuddy, senior analyst of network management at EMA, and Steven Shalita, vice president of marketing and business development at Pluribus Networks.
Undoubtedly, the journey to the digital enterprise requires new thinking. Based on new research from EMA, this webinar will provide insights into the key requirements to make data center networks future-ready. It will also examine how innovative enterprise organizations are executing their network transformation projects by leveraging network automation, software-defined networking (SDN), network functions virtualization (NFV), and enhanced network visibility.
Additionally, Shalita will explore an architectural blueprint for the cloud-enabled data center that focuses on the principles of a truly adaptive software-defined fabric that removes network complexity, automates operations, bridges the NetOps and DevOps paradigms, and enables next generation performance monitoring to improve real-time operational intelligence.
The webinar is Thursday, November 9 at 1:00 p.m. Eastern. Those who wish to attend can register at: http://research.enterprisemanagement.com/cloudification-of-the-data-center-network-pr.html
About EMA
Founded in 1996, EMA is a leading industry analyst firm that specializes in providing deep insight across the full spectrum of IT and data management technologies. EMA analysts leverage a unique combination of practical experience, insight into industry best practices and in-depth knowledge of current and planned vendor solutions to help clients achieve their goals. Learn more about EMA research, analysis and consulting services for enterprise line of business users, IT professionals and IT vendors at http://www.enterprisemanagement.com or http://blogs.enterprisemanagement.com.