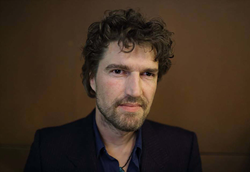 The 97 percent should sit and watch it
CALGARY, Alta. (PRWEB) October 26, 2017
As climate catastrophe movies like "Geostorm" and Al Gore's "An Inconvenient Sequel" bomb at the box office, as reported by Fox News, Oct. 24, 2017, young and old reject climate change hype and are speaking out against damaging climate change policies, says Friends of Science Society.
Young, left-wing Dutch filmmaker Marijn Poels caused a stir in Europe for his film "The Uncertainty Has Settled," which was screened Oct. 18, 2017 at the EU Parliament. Poels reported by email to Friends of Science that the screening was received by some 50 European Parliamentarians but none of the Greens were in attendance, illustrating the dogmatic nature of the issue. Poels' film addresses his shocking realization that EU farmers are being reduced to farming wind for subsidies instead of food for people.
The news channel RTLZ posted thoughtful op-eds and an interview on the event by Roderick Veelo, translated in English and posted on the Friends of Science blog. entitled: "The 97 percent should sit and watch it."
Likewise, former Australian Prime Minister, Tony Abbot, shook the world with his speech "Daring to Doubt," delivered to the Global Warming Policy Foundation on Oct. 9, 2017.
Abbot bluntly asserted: "Contrary to the breathless assertions that climate change is behind every weather event, in Australia, the floods are not bigger, the bush fires are not worse, the droughts are not deeper or longer, and the cyclones are not more severe than they were in the 1800s. Sometimes, they do more damage but that's because there's more to destroy, not because their intensity has increased. More than 100 years of photography at Manly Beach in my electorate does not suggest that sea levels have risen despite frequent reports from climate alarmists that this is imminent."
In Canada, Allan Chatenay, the President of Explor, a seismic services company, posted an open letter published on LinkedIn Oct. 21, 2017, entitled "Climate Change is Killing Us: My Open Letter to Prime Minister Trudeau & Environment Minister McKenna" bluntly stating: "Your government's view that Canada can stop the global climate from changing by taxing Canadians, killing billions of dollars of new projects and chasing foreign investment away when none of the major global powers are doing the same is profoundly harmful and irresponsible. You have created a graveyard of cancelled mega-projects…."
Canada recently imposed complex 'climate change' considerations into pipeline approvals for oil and gas, leading to the cancellation of the Energy East pipeline and proposed LNG port projects. Other resource projects are blocked by offshore funded climate change/anti-oil activists, as reported in the Financial Post Oct. 3, 2016, by Vivian Krause.
With the Bonn COP-23 talks on the horizon, the host nation Fiji is also facing public challenges to its claim that Pacific Islands are in crisis due to sea level rise from fossil fuel use. As reported Oct. 24, 2017 in "Fear Not for Fiji" on the Canadian "Science Matters" blog, peer-reviewed research based on all available facts shows sea level is stable.
Friends of Science holds the position that various solar cycles and activity, along with ocean cycles, are the main drivers of climate change, not carbon dioxide from human industrial activity.
About
Friends of Science Society is an independent group of earth, atmospheric and solar scientists, engineers, and citizens, celebrating its 15th year of offering climate science insights. After a thorough review of a broad spectrum of literature on climate change, Friends of Science Society has concluded that the sun is the main driver of climate change, not carbon dioxide (CO2).
Friends of Science Society
P.O. Box 23167, Mission P.O.
Calgary, Alberta
Canada T2S 3B1
Toll-free Telephone: 1-888-789-9597
Web: friendsofscience.org
E-mail: contact(at)friendsofscience( dot)org
Web: climatechange101.ca