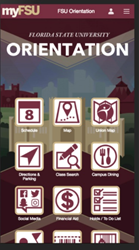 "We were looking for a way to welcome new students to campus, with all of the resources and information they needed to be successful...with Modo Campus," said Rebekah Dorn, Director of User Experience at Florida State University
Cambridge, MA (PRWEB) October 26, 2017
Modo Labs, the leading Higher Ed mobile app company, is helping universities across the country welcome students with their New Student Orientation (NSO) product inside Modo Campus™. NSO, which is an out-of-the-box, customizable campus app module, focuses on getting students on campus prior to first day of class to ensure they start off their college careers strong.
Stewart Elliot, CEO of Modo Labs, said, "Modo Campus™ is already the app platform of choice for more than 300 higher education institutions. Now, with this new offering, we are increasing our customers' ability to create positive campus experiences, before students even step foot in the classroom. New Student Orientation (NSO) is exciting, fast-paced and, at times, overwhelming. It's also one of the best moments for capturing student interest, boosting student confidence and developing campus connections, all in support of increasing retention."
"We were looking for a way to welcome new students to campus, with all of the resources and information they needed to be successful. At the same time, we wanted to increase campus engagement among returning students and build a more vibrant community. We turned to mobile to meet students where they already were, and identified Modo Campus™ as the best platform to create positive student experiences," said Rebekah Dorn, Director of User Experience at Florida State University, which recently deployed a new NSO module with Modo Campus™ for Student Preview, Orientation, and Move-In events.
The Modo Campus™ NSO Starter Kit enables colleges to quickly set up a fully-functional NSO module, with minimal time and resources. The kit includes multiple agenda tracks, social feeds, campus maps, special event information and a variety of other items. The template can easily be personalized with campus NSO activities, imagery licensed for reuse, and more.
The easy-to-navigate Florida State University app uses beautiful, clean design, push notifications, and personalized messaging to engage students and communicate up-to-the-minute information. Students reported using the app to find classrooms with in-app floor plans, locate classrooms, attend meet-ups with other students, engage with NSO Leaders and receive information about upcoming events. Students particularly found the scheduling and map tools within the app most helpful, according to a recent survey, where 95% of users surveyed said they found the app very useful.
Florida State University is not the only school to deploy a mobile strategy to ease student transitions. Schools such as Pepperdine University, Fitchburg State University, and University of Massachusetts Amherst are deploying Modo's platform for NSO and the entire student journey to increase positive experiences and student retention. Florida State University reported 98% engagement with the NSO module and looks forward to continuously using it moving forward.
According to recent student focus groups conducted by Modo, students are already reporting feeling more connected and confident starting college with the NSO module. "Having information, events, and other opportunities accessible through the app made navigating this new environment easier," said one student. "It really helped me feel comfortable in my first days on campus and feel like I could be successful here."