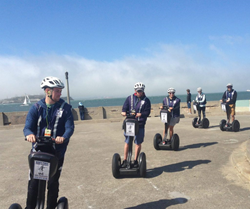 Let's face it—most team building exercises are cringe-inducing ordeals that nobody enjoys," he says. "But I've yet to see any group of co-workers walk away from a Segway outing relieved it was over. Riding a Segway is pure fun and builds camaraderie. People have such a good time, they forget it was
San Francisco CA (PRWEB) October 27, 2017
The company's team building expert, Brandon Luse, is confident that Segway group activities will win over even the most skeptical participant. "Let's face it—most team building exercises are cringe-inducing ordeals that nobody enjoys," he says. "But I've yet to see any group of co-workers walk away from a Segway outing relieved it was over. Riding a Segway is pure fun and builds camaraderie. People have such a good time, they forget it was mandated by their boss!"
Groups can choose from tours, a scavenger hunt, or Segway Olympics. Tours are available for groups of 2 to 100. Groups of 10 or less can choose from among three different routes: Wharf and Waterfront (including advanced hills), Golden Gate Park, or the Nighttime Tour that covers Chinatown, North Beach, and the Ferry Building on the Embarcadero. Larger groups with 10+ riders can enjoy day or evening tours of either the Wharf and Waterfront or Golden Gate Park. Tours can also be customized. All tours start as low as $105 per person.
Starting at $115 per person, the scavenger hunt offers roughly three hours of puzzles and clues that lead groups to historic landmarks and buildings throughout Golden Gate Park or the northeastern portion of San Francisco. The hunt takes participants through Fisherman's Wharf, North Beach, Russian Hill, Telegraph Hill, and along the Waterfront or Golden Gate Park.
The Segway Olympics begin in December 2017. Despite its name, this team-building package requires no special athletic ability. Anyone who completes Segway training can compete! Activities include Segway Soccer, Clumsy Waiter, Drive-by Toss, Frisbee Fishing, and something called Furry Balls and Velcro (which is guaranteed to result in hilarity).
All activities begin with a 30-40 minute training session. "Safety always comes first," Brandon explains. "After everybody is steady on their Segways, the fun can begin!"
All events can be customized on request. For more information, visit https://segway-team-building.com