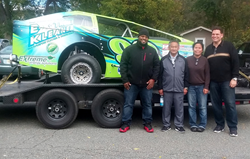 Washington, DC (PRWEB) November 01, 2017
Global Highlights LLC has been known for bringing to the regional market specialized retail products with placement of its kiosk throughout malls in the Washington DC Metro area. Retail has always been the expertise of Global Highlights, a business led by Calvin Whitney, a long time regional business man and merchant. After years of working the retail gambit, Global Highlights is switching gears and going after commercial and industrial clients, teaming up with Extreme Energy Solutions, in marketing and distribution of the popular eco-friendly green cleaner-degreaser; Extreme Kleaner.
"We see a huge opportunity in getting ahead of the trend in promoting and providing green product solutions to metro areas which take environmental sustainability very seriously," commented Calvin Whitney.
"Global Highlights has added some great folks to our staff that we feel will be instrumental in growing the Extreme Kleaner name and the company in Washington DC and beyond," added Whitney.
The Global Highlights Team also includes Bert Cabortaje, Regional Sales Director; Travin Pookrum and Jamie Beckles, Sales Reps. All hail from the Washington DC Metro area.
With their focus on the larger retailer distribution market model, Extreme Kleaner's parent company, Extreme Energy Solutions, agreed to Global Highlight's proposal to commercialize Extreme Kleaner, in the territories requested.
"Extreme Energy Solutions found value in the prospect of paring up with a company who had a sincere interest in our products, a company that had already tried Extreme Kleaner and were fans and cheerleaders of our product line. In order to reach younger consumers who value environmentally friendly products, and popularize the product Extreme found Global Highlights to be a good partner to lead the cause in the Washington DC area," stated Samuel K. Burlum, CEO and President of Extreme Energy Solutions.
Extreme Kleaner has done well in the hardware store and home improvement retail sector; having several select hardware stores that now carry and offer the green cleaning product. Hardware Hank, Trustworthy Hardware, Golden Rule Lumber Centers, Ranch and Pet Supply, Ace Hardware, True Value, Orgill affiliated hardware stores, and other independently owned hardware and building supply outlets have done well with Extreme Kleaner, which is now available coast to coast. Menard's and Woodman's Markets are also promoting Extreme Kleaner. Extreme Kleaner was first made available to customers online via Amazon.
Extreme Kleaner has begun its market entry into the automotive aftermarket as it was introduced to the market via selected NAPA Auto Parts stores and East Coast Speed, of Middletown, New York.
Extreme Energy Solutions has launched its marketing campaign to help promote Extreme Kleaner, including a series of print and media advertising, social media campaigns, motorsports marketing campaigns, and new video content highlighting the two available formulas: Extreme Kleaner Multi-Purpose Cleaner-Degreaser, and Glass, Tile and More formula.
Extreme Kleaner is proudly "Made in the USA," and is just one of the products introduced to the market by Extreme Energy Solutions aimed at lessening consumer's environmental impact.
Extreme Kleaner is a non-toxic biodegradable cleaner-degreaser manufactured in the United States, which originates from the Garden State, where it is packaged for consumers around the nation. Extreme Kleaner was first offered online, advertised and sold on Amazon. In 2013, local retailers began to offer the green cleaner in the Northeast. By year end of 2015, Extreme Kleaner was made available in other hardware chains, auto parts stores, and food stores coast to coast at selected locations in selected states. Several new opportunities were created in 2016 for the product to be made available to additional consumers including the launch of Extreme Kleaner in both a number of co-ops and larger big box retailers. 2017 opens with the launch of Extreme Kleaner in Menard's and Woodman's.
A portion of every sale of Extreme Kleaner is dedicated toward assisting local and/or regional causes. Former causes which received the benefit of this initiative include Project Help, a cause aimed at helping to eradicate Veteran homelessness; STEM Education, the performing arts, and non-profit educational forums for environmental and economic sustainability. The product's parent company, Extreme Energy Solutions has also helped sponsor local 5k runs for many good causes.
Extreme Kleaner has been the focus of many positive press write-ups and media publications including, but not limited to, being spotlighted in Natural Awakenings Magazine, The Hard Clay, featured on Today in America, and on Central Valley Talk. Extreme Kleaner has recently launched its new website, http://extremekleaner.com/where-to-buy/ listing where Extreme Kleaner is sold.