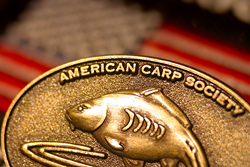 We invite every American angler to make our website his or her first choice for exhaustive, authoritative information about carp fishing.
COPPELL, Texas (PRWEB) November 01, 2017
A new website devoted to showcasing the thrills and fun of angling for Cyprinus Carpio, a hard-fighting freshwater fish better known as the common carp, is now live, the American Carp Society today announced.
The website – http://www.americancarpsociety.com – promises an array of content that U.S. carp anglers will find both helpful and inspirational, according to American Carp Society founders Sean Manning and Wayne Boon.
"Cyprinus Carpio is one of the largest fish in our waters – it can grow in excess of 50 pounds – and has extraordinary intelligence, which are some of the reasons why fly fishermen are becoming big fans of this fish," said Manning.
Added Boon, "We invite every American angler to make our website his or her first choice for exhaustive, authoritative information about carp fishing. Our site emphasizes that the approaches and methods that work for catching most other species are not as effective when it comes to catching carp. We hope that those who want to be successful in this sport will find our new website a tremendous resource."
Posted at the new website is an extensive library of fishing and nature images, videos, articles, and charts, Boon said. Much of it is publicly available and free of charge. However, the most invaluable content is available only to members of the American Carp Society, Manning indicated.
Membership also permits browsing the organization's online store where visitors can shop for exclusive American Carp Society-branded merchandise along with a range of carp angling-related products and resources, Manning said.
Additionally, members are able to participate in forums where they can pose questions and share information and insights. "Some of the top U.S. carp anglers will be exchanging thoughts," said Boon.
Being released in conjunction with the launch of the website is the American Carp Society's annual, members'-only hardcopy publication, The American Carper.
"It is the first-ever high-quality paperbound publication specifically about the sport and the species here in the U.S.A.," said Boon. "At 340 pages and weighing a hefty 4.5 pounds, it contains some of the most exquisite photography, plus incredible articles. Never before has anything like this been released in support of U.S. carp angling here in the USA."
More details about The American Carper and information about how to join the American Carp Society are available at the website, Manning said.
Carp fishing is a popular sport in most of the world, and has been gaining momentum in the U.S., said Manning, noting how catch-and-release anglers everywhere delight in the amount of line play and patience needed to successfully land this particular aquatic quarry.
He contended that catch-and-release carp fishing in the U.S. is growing not only in popularity but also in terms of prestige.
"The American Carp Society has hosted state championship contests in the past, and in 2005 hosted the 'World Carp Championship' in New York," Manning said. "That event made headlines in the Wall Street Journal, in part because of a purse of a million dollars."
Boon said that in most of the rest of the world, the carp is indisputably one of – if not the – most popular freshwater sport fish. "And for very good reason," he continued. "Few freshwater sport fish are as clever as the carp. And, when a carp does take the bait, it has few equals when it comes to its fighting ability and refusal to be reeled in quietly. Once you hook into a large carp, nothing else is ever the same."
Manning said carp anglers come in all persuasions: male, female, adults, kids; people into fly fishing, shore fishing, boat fishing; experienced, novices, pleasure fishers, competition fishers, you name it.
"The two things they all have in common," he said, "is a desire to reconnect with nature and a love of matching wits with one of the most highly intelligent fish ever, a fish that learns how to outsmart those trying to catch it."
ABOUT THE AMERICAN CARP SOCIETY
The Coppell, Texas,-based American Carp Society was founded in 2002 by lifelong anglers Sean Manning and Wayne Boon to serve as a definitive resource for U.S. sport fishers with an interest in carp angling. The organization also was created to promote carp angling as both a recreational and competitive pursuit in the U.S. Membership is open to all with an interest in carp fishing.