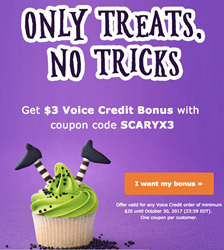 Atlanta, Georgia (PRWEB) October 27, 2017
If expats have no plan for Halloween or are you too scared to get out this night, when all spirits wander and might turn them into frogs, KeepCalling.com launches a special promotion: $3 Bonus for longer and scarier international calls. The bonus can be redeemed by using the coupon code SCARYX3 when placing a Voice Credit order of minimum $20. The promotion is open starting October 27 until October 30.
So, they can pick up the phone, practice their scariest voice and start calling their family and friends back home in their home country.
In the meantime, a Facebook contest sets Halloween mood ON. Customer are invited on KeepCalling Facebook page and guess what's inside the pumpkin. The contest is open until October 30 and the winner will be chosen randomly on October 31, being awarded $10 Voice Credit bonus.
To have some examples, $10 Voice Credit means 77 minutes to call Canada mobiles, or 1428 for calls to landlines there. If the destination is India, $10 brings 588 free international minutes that never expire. As for Pakistan, $10 prize = 232 free international minutes to mobiles there. Or China. $10 prize = 833 free international minutes to both landlines or mobiles in China.
KeepCalling has been serving expats and travellers since 2002, optimising the service and working on affordable rates along the way, per their feedback. This also included 2 types of long distance calling: with and without Internet access.
-Smartphone users have KeepCalling app available on AppStore and Google Play. The app is free to install, and turns international calls into local calls in terms of both dialing easiness and costs.
-For those used to calling phone cards, access numbers can be used to call without any Internet connection, from any phone.
In addition to Voice Credit, KeepCalling.com also offers Mobile Recharge, Monthly Plans, and Virtual Numbers.
To find out more about KeepCalling.com's newest offers, customers are invited to visit their blog at blog.keepcalling.com or to follow them on Facebook, Google+, and Twitter.
Customers are happy about the low rates and high quality of the service. One of them says "Great way to be in touch! It is cheap enough not to make me think twice if I want to talk to someone across the globe. I am not being robbed in form of connection fees, handling fees and all kind of other garbage. Nice and simple. Prices going down constantly. Reliable. Love it."
KeepCalling.com is a website powered by KeepCalling, a global telecommunications company registered in 2002 in USA. Presently, KeepCalling provides its services to hundreds of thousands of consumers , with a focus on customer satisfaction. KeepCalling was listed by Inc 5000 as one of the fastest growing companies in the USA for 5 consecutive years.