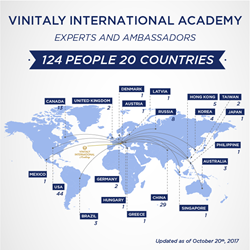 "I look forward to continue this journey, through visits to producers and regions and sharing this knowledge with others, through teaching, tastings and writing.", Corinne Keddie, new Italian Wine Expert
(PRWEB) October 26, 2017
Vinitaly International Academy (VIA) forges ahead its Certification Course in San Francisco, USA, and welcomes 10 new Italian Wine Ambassadors and 1 Expert (the higher title). With an overall of 116 Italian Wine Ambassadors and 8 Italian Wine Experts to date, the San Francisco edition, held from October 16th to 20th, closes the third year of worldwide VIA courses organized in Europe, China, and USA, and was characterized by the high level of the candidates.
26 wine professionals from the USA and one from as far as Singapore gathered for an intense week of theory and tastings at the San Francisco Wine School. They all had one thing in common: the undeniable enthusiasm for Italian wine. All lessons were conducted by Dr. Ian D'Agata, author of Native Wine Grapes of Italy (winner of the 2015 Louis Roederer International Wine Book Awards as Book of the Year) who has been running the course since 2015. In addition to D'Agata's groundbreaking treatise on Italian indigenous grapes, for the first time, candidates also took advantage of the new reference text Italian Wine Unplugged Grape by Grape. Available for now in ebook format on Amazon but soon to be published in print, the ebook guided VIA candidates in their learning, since everyone was ipad- and smart phone equipped and followed the lessons with the assistance of the ebook.
Representing the one and only opportunity for wine professionals to gain extensive knowledge on the vast subject of Italian grapes and wines, the Certification Course enables all professionals to speak of Italian wine in a unified and organized manner, with true in-depth knowledge. The new VIA Italian Wine Expert, Corinne Keddie, comments on the rigor and depth of the course: "I met Ian D'Agata two years ago, when he was a guest lecturer for the WSET Level 4 Diploma course I was taking. I did not realize it when I first started, but that course only touched on such a small number of the sheer amount of native grapes of Italy. But hearing Ian and reading his book definitely made me want to learn more. Unfortunately, many of Italy's native grapes have little exposure internationally. The course allows us to not only learn about, but taste many of these wines. It is by far one of the most rigourous study programs I have ever taken, including my four-year Master of Architecture degree. So, I was very excited and proud to be the eighth person to have achieved the title of Italian Wine Expert. I look forward to continue this journey, through visits to producers and regions and sharing this knowledge with others, through teaching, tastings and writing."
Among the 10 new Italian Wine Ambassadors, VIA also welcomed the Master Sommelier (MS) Brandon Tebbe, who states that the course was for him "the most in-depth study I've ever done, going deep into the world of all things Italian. Truly looking forward to participate in the course again and achieve the Expert title". With Tebbe, VIA is now home to 2 MSs (the other one being Yang Lu) and to 3 MWs: Fongyee Walker from China, Sarah Heller from Hong Kong and Nicholas Paris from USA. Newly-certified VIA wine specialists will be able to support VIA in teaching the courses around the world and broadcasting the excellence of Italian wines.
This San Francisco edition concludes the third year of the VIA Certification Courses and the very first year of a world VIA tour that started in Verona, Italy, during Vinitaly in April, then continued to New York City, USA in June, and to the Chinese cities of Shanghai and Beijing in September. Stevie Kim, the founder of Vinitaly International Academy, explains this recent development, "The reason we've decided to accelerate in both US and China was that America has always represented the most important market for Italian Wines and China is the most important in terms of potential growth, albeit its lackluster results as of today. In general, we simply need more, many more, Italian Wine Ambassadors to be effectively targeting these markets. There are currently 73 Italian Wine Ambassadors and Experts in US and China; we are looking to increase that number consistently until end of next year. We are currently going into our fourth edition of the VIA certification program in Verona but we also wanted to respond to the needs of those who cannot take so much time off from their commitments to travel all the way here to Vinitaly. To my surprise, some had never travelled to Italy, not to mention Vinitaly. Naturally, they will now have all the reasons to travel to Italy." The next edition of the Certification Course will be held in Verona, Italy in April 2018. Registrations are already open: http://www.vinitalyinternational.com/vinitaly-international-academy/certification-course/verona2018.
Full list of our 11 newly certified Italian Wine Ambassadors and Experts from the San Francisco Edition 2017
Italian Wine Expert:
Corinne Keddie, Calgary & Southern Alberta Area Representative at Opimian
Italian Wine Ambassadors:
Brandon Tebbe (MS), Wine Director at Cosmopolitan Las Vegas
Randall Bush, Retail Associate at Independent Spirits
Jahde Barasch-Grose, Sommelier at L'Amico
Phoenix Murchin, Lead Sommelier at Carnevino Italian Steakhouse (Batali & Bastianich Hospitality Group)
Mark Middlebrook, National Sales Manager at PortoVino
Rose Johnson, Sommelier at Rao's (Ceasar's Palace)
Marin Preske, Sommelier at Mozza
Mary Beth Vierra, Manager Wine and Spirits Education at EJ Gallo
Laura Donadoni, Sommelier at La Com
Anna Bartolini, Owner of Restaurants, La Balena and Il Grillo
For more details about VIA Ambasadors and Experts see: http://www.vinitalyinternational.com/vinitaly-international-academy/expert-ambassador
About:
Veronafiere is the leading organizer of trade shows in Italy including Vinitaly (http://www.vinitaly.com), the largest wine and spirits fair in the world. During its 51th edition Vinitaly counted more than 4,270 exhibitors on a 100,000+ square meter area and 128,000 visitors from 142 different countries with more than 30,000 top international buyers (up by 8%). The next edition of the fair will take place on 15 - 18 April 2018. The premier event to Vinitaly, OperaWine (http://www.operawine.it) "Finest Italian Wines: 100 Great Producers," will unite international wine professionals on April 14th in the heart of Verona, offering them the unique opportunity to discover and taste the wines of the 100 Best Italian Producers, as selected by Wine Spectator. Since 1998 Vinitaly International travels to several countries such as Russia, China, USA and Hong Kong thanks to its strategic arm abroad, Vinitaly International. In February 2014 Vinitaly International launched an educational project, the Vinitaly International Academy (VIA) with the aim of divulging and broadcasting the excellence and diversity of Italian wine around the globe. VIA this year concluded the third edition of its Certification Course and today counts 116 Italian Wine Ambassadors and 8 Italian Wine Experts.