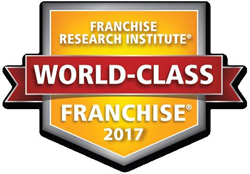 PLAINFIELD, Ill. (PRWEB) October 30, 2017
Spring-Green Lawn Care is thrilled to announce it has received "World-Class Franchise" recognition for 2017 from the Franchise Research Institute, the 10th consecutive year it has received the certification.
The recognition comes after an independent franchise owner validation survey was conducted by the Franchise Research Institute. More than three-quarters of Spring-Green franchise owners participated in the survey, which is designed to measure 10 key metrics crucial to franchise owner success.
The survey asked franchise owners to rate Spring-Green in a series of categories including overall quality, growth potential, support, and communication.
Among the responses received from Spring-Green's franchise owners:

98% gave a positive rating to Spring-Green's overall quality
100% gave a positive rating to the quality of Spring-Green's products and/or services
96% gave a positive rating to the long-term growth potential of their franchise business
100% gave a positive grade to the helpfulness to Spring-Green resources such as franchise business consultants and the call center.
Positive referrals and recognition like Franchise Research Institute's World-Class Franchise designation play a huge role in attracting high-caliber new franchise owners year after year — including owners like Steve Downin and Jeff Rocker, co-owners of Right-of-Way-Turf-Ornamental, Inc. and a Spring-Green Lawn Care franchise in Columbus, Indiana.
While investigating Spring-Green as a way to diversify their business, the pair did their homework: They read franchise information and disclosures, reviews, forums, and discussions. "I couldn't find anything that led me to believe Spring-Green was anything other than an upstanding and honest and reputable company," said Rocker, who has co-owned the Spring-Green franchise with Downin since 2015.
Downin agreed that their positive findings had a big impact on their final decision. "Reputation, quality, and satisfaction of Spring-Green owners were all crucial factors that swayed my decision to join," he said.
Being named a World-Class Franchise for the 10th consecutive year is further validation of the commitment Spring-Green has made to its franchise owners since the company was founded in 1977.
"We've developed a proven system for our franchise owners to implement, and they rely on our ongoing support services and marketing and technology expertise to achieve continued success," said Spring-Green CEO James Young. "Spring-Green is thrilled to be a World-Class Franchise again in 2017."
About Spring-Green Lawn Care
Founded in 1977, Plainfield, Illinois-based Spring-Green Lawn Care has been delivering lawn and tree care services nationwide for more than 40 years. Its service is centered on the beautification of residential and commercial customers in middle-class and affluent neighborhoods and communities.
Spring-Green is an attractive opportunity for existing green industry business owners who want to align themselves with a business model that has proven economic resilience, healthy profit margins, industry leading business and marketing intelligence, recurring revenue, and retirement and succession planning.
For more information, visit http://www.springgreenfranchise.com.
About the Franchise Research Institute
The Franchise Research Institute is a Franchise Performance Measurement firm headquartered in Lincoln, Nebraska. FRI is the original auditor of franchise owner validation and does not sell leads or advertising. FRI's World-Class Franchise opportunities must demonstrate that they are endorsed by their franchise owners through FRI's scientific, confidential, third-party surveys.