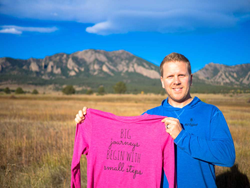 SEATTLE and GREENSBORO, N.C. (PRWEB) October 26, 2017
Net Effect Clothing founder, Dave Hall, has been fascinated with the relationship between business and social causes throughout his life. As early as High School, books such as Ben & Jerry's: The Inside Scoop: How Two Real Guys Built a Business with a Social Conscience and a Sense of Humor resonated strongly, encouraging him to study both business and nonprofit management in college. Over time, additional works such as John Mackey's Conscious Capitalism and Will MacAskill's Doing Good Better were potent motivators, ultimately planting the seed for his newly launched apparel company Net Effect Clothing. The Net Effect mission is to combine comfort, protection and giving – one Insect Shield® protective t-shirt at a time.
"I started Net Effect because I wanted to create a business with a positive impact. In the book, Doing Good Better, Will MacAskill describes how antimalarial efforts are underfunded and that the distribution of bed nets is one of the most cost-effective and impactful ways to provide support. I was moved to contribute to those efforts and to do more for the greater good of others," explains Hall.
Hall was saddened to learn that while malaria is a preventable disease, it kills over half a million people every year with 400 million falling ill. He wanted to help and felt that the amount he could personally donate over time would be relatively small, yet if he could start a small business supporting these efforts, the impact could potentially be far greater.
The Net Effect collection offers comfortable, casual apparel for men, women and children – all with built-in Insect Shield® protection. For every product sold, Net Effect contributes $5 to organizations that provide anti-malarial bed nets to those in need.
As an avid lover of the outdoors, Hall knows first-hand how insect bites ruin a good time. Some people attract mosquitoes more than others, and he is one of those people. He fell in love with insect repellent clothing years ago, having purchased Insect Shield-treated clothing to protect himself. It was a natural fit to share a product he loved, with people who loved the outdoors, and to leverage it in order to bring support to a related cause.
"We're a small startup, but the more we grow the more we can contribute, and the more people we can encourage to spend time outside safely. These are the goals that motivate us to do good, better," adds Hall.
For more information about Net Effect, visit neteffectclothing.com, or follow on Facebook and Instagram at @neteffectclothing
About Insect Shield® Technology: Insect Shield Repellent Apparel and Gear are revolutionary products designed to provide long-lasting, effective and convenient personal insect protection. The durable protection provided by Insect Shield is the result of years of research and testing. In July 2003, Insect Shield Repellent Apparel was registered by the United States Environmental Protection Agency. Insect Shield Technology is utilized by 75+ leading lifestyle brands, work wear distributors and International relief organizations across the globe to provide effective protection against insects and the diseases they can carry. Insect Shield is an approved vendor of the US Army and US Marine Corps and approved for distribution in 46 countries. For more information visit, insectshield.com
Janine Robertson
Marketing/PR
Insect Shield® Repellent Technology
janinerobertson(at)insectshield(dot)com
http://www.insectshield.com
Ph: 206 354-9093