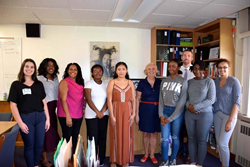 So this is our world and so we live in this world and we should be aware of what is going on in our world and we should talk about it because there are really bad things and there are really good things. And we should recognize the good things and hope to reform the bad things.
SYOSSET, N.Y. (PRWEB) October 28, 2017
ERASE Racism's Student Voices Campaign called for a reflection on the horrific Charlottesville incident. With the help of dedicated teachers and administrators from Elmont Memorial High School, we received over 40 responses. Students used poems, videos, and op-eds to convey their feelings towards racism and bigotry in the United States. Students provided intricate and thought-provoking responses on how our community could come together and love another better.
Our four winners are:
Cece jean, 8th Grade
Lauryn-Alexa Mitchell, 12th Grade
Vanessa Rodriguez, 10th Grade
Jahnia Cunningham, 10th Grade