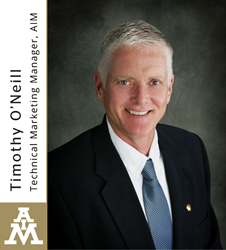 CRANSTON, R.I. USA (PRWEB) October 30, 2017
AIM Solder, a leading global manufacturer of solder assembly materials for the electronics industry, is pleased to announce that Timothy O'Neill, Technical Marketing Manager, will present at the SMTA LA – Orange County Expo & Tech Forum, scheduled to take place on November 2nd, 2017 at The Grand in Long Beach, CA. The presentation is scheduled for 1:00 PM.
O'Neill will present the white paper "Unforgiving Environments - Proper Handling & Storage Controls Go a Long Way Toward Print Quality." The presentation will cover the basics of how a solder paste formula is developed and manufactured and how the end user can optimize handling and usage to maximize performance, reduce defects and minimize waste.
Timothy O'Neill is the Technical Marketing Manager for AIM Solder. With nearly 25 years of experience in electronics soldering, Mr. O'Neill has co-authored several papers on PCB assembly subjects. He is a Certified IPC Specialist, a technical writer and presenter for industry trade publications and events. His commitment and dedication to sharing innovative solutions to challenging problems in the electronics assembly market have earned him recognition from the SMTA as Speaker of Distinction.
About AIM
Headquartered in Montreal, Canada, AIM Solder is a leading global manufacturer of assembly materials for the electronics industry with manufacturing, distribution and support facilities located throughout the world. AIM produces advanced solder products such as solder paste, liquid flux, cored wire, bar solder, epoxies, lead-free and halogen-free solder products, preforms, and specialty alloys such as indium and gold for a broad range of industries. A recipient of many prestigious SMT industry awards, AIM is strongly committed to innovative research and development of product and process improvement as well as providing customers with superior technical support, service and training. For more information about AIM, visit http://www.aimsolder.com.
Upcoming Events
November 14-17, 2017 – Productronica Germany – Munich, Germany
November 16, 2017 – SMTA New England – Worcester, MA
November 29, 2017 – SMTA Silicon Valley – San Jose, CA