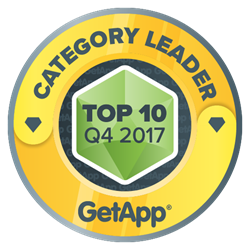 IRVINE, Calif. (PRWEB) October 26, 2017
EBizCharge, a web-based payment processing solution for merchants, has been named a Category Leader and ranked in the top 10 for point of sale (POS) software by GetApp's Category Leaders ranking report. EBizCharge ranked number 10 out of more than 90 different point of sale solutions.
The Category Leaders ranking report is an objective assessment that gives a comprehensive list of the top software solutions for small businesses. The ranking showcases the top 25 point of sale solutions scored using five evaluation criteria (worth 20 points each) for a total possible score out of 100. These criteria include user reviews, integrations, mobile app availability, media presence, and security. The ranking is independent of any of GetApp's commercial interests or existing relationships with software vendors.
The Category Leader ranking serves as a point of reference for software buyers and small businesses, highlighting the key factors they should consider when assessing which point of sale solution is right for their business. These factors include perception (reviews), compatibility (integrations and mobile compatibility), market presence (media presence), and security features.
EBizCharge is a proprietary payment gateway built and maintained by tech-based payment provider Century Business Solutions. EBizCharge allows businesses to accept credit card payments directly inside ERP/accounting software, eCommerce shopping carts, and CRM systems.
EBizCharge provides off-site data storage and utilizes the latest encryption and tokenization technology for maximum data security. EBizCharge currently helps over 10,000 users streamline workflow, eliminate double data entry, and automate their payment process.
The EBizCharge POS solution is a secure, fully PCI-compliant, retail-certified solution designed specifically for retail merchants, and can help businesses manage day-to-day operations with ease. The solution enables business executives to release funds and manage returns. Merchants can also select multiple invoices to make customer refunds and process credits.
EBizCharge POS gives businesses the freedom to process credit card transactions with or without a physical terminal, and is backed by free, 24/7 in-house customer support.
About Century Business Solutions:
Century Business Solutions is reinventing the way companies accept credit card payments with their all-in-one payment solution, EBizCharge. EBizCharge is one of the top payment gateway alternatives and is specifically designed to reduce payment processing costs and inefficiencies. EBizCharge integrates seamlessly with over 50 accounting, ERP, CRM, and shopping cart systems, including QuickBooks, Sage, SAP B1, Microsoft Dynamics, Acumatica, Shopify, Magento, and WooCommerce. Century is partnered and certified with Microsoft Dynamics, Acumatica, SAP, Oracle, QuickBooks, WooCommerce, Magento, and many more. For more information on Century Business Solutions, visit https://www.centurybizsolutions.net.
Contact:
Century Business Solutions
Jessica Hamilton
888-500-7798 x279
jessica.h(at)centurybizsolutions(dot)com