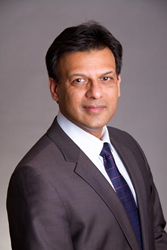 Our aim was to create an upscale office that reflects the modern reality of this community," explained Chandi.
CHICAGO (PRWEB) October 26, 2017
RE/MAX 1st of Elmhurst, Ill., recently moved into a new and larger office at 257 N. West Ave. The 2,500-square-foot space is in a 9,000-square-foot commercial building owned by Surinder Chandi, a Toronto-based real estate broker and investor who acquired RE/MAX 1st earlier this year.
"We purchased and completely renovated the building, so everything in the RE/MAX 1st office is brand new. Our 11 brokers and support staff are getting settled, and we're all excited about the facility," said Chandi. "It offers all the bells and whistles you could want to create a first-class business environment for our brokers and their clients."
Brokers can choose the kind of office situation that suits them best – a fully equipped workstation, private office or semi-private office – and then enjoy a range of other amenities, including a lounge area with well stocked beverage bar, one large and two smaller conference rooms and the latest in communications equipment.The entire space is done in a cream and taupe color scheme.
"Our aim was to create an upscale office that reflects the modern reality of this community," explained Chandi."Elmhurst was established as a middle-class suburb, and retained that character for a long time, but it has been changing in recent years, thanks to its excellent location and village charm. These days it is attracting a steady stream of luxury new-construction homes, and we need to appeal to those buyers and sellers, as well as the more traditional segments of our market."
The new office is also designed to let Chandi implement his plans to deliver a higher level of support to every RE/MAX 1st broker.
"To make life easier for our brokers, we are providing added support for them in key areas, such as creating marketing materials and prospecting for new business," Chandi explained.
"That will allow them to focus more of their energy on doing what they do best, which is smoothing the way for their clients to successfully sell or purchase a home or investment property. For most folks, that is a major financial transaction, and we're doing all we can to make sure each client gets the level of service they want and need," he said.
RE/MAX agents consistently rank among the most productive in the industry. In 2016, RE/MAX Northern Illinois agents averaged 18 transaction sides.RE/MAX has been the leader in the northern Illinois real estate market since 1989 and is continually growing. The RE/MAX Northern Illinois network, with headquarters in Elgin, Ill., consists of more than 2,250 sales associates and 105 independently owned and operated RE/MAX offices that provide a full range of residential and commercial brokerage services. Its mobile real estate app, available for download at http://www.illinoisproperty.com, provides comprehensive information about residential and commercial property for sale in the region. The northern Illinois network is part of RE/MAX, a global real estate organization with 115,000+ sales associates in 100+ nations.
####
EDITOR'S NOTE: RE/MAX® is a registered trademark. Please spell in all caps. Thank you. This release is posted at blog.illinoisproperty.com.