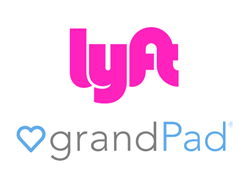 "By integrating Lyft into our technology, we are making it easier than ever before for seniors to attend appointments, run errands, and even visit friends," said Scott Lien, CEO and co-founder of grandPad.
ORANGE, Calif. (PRWEB) October 30, 2017
grandPad, creators of the first tablet-based solution designed exclusively for seniors, announces a new partnership with Lyft, the fastest growing rideshare service in the US, to provide car rides for seniors in an easy, reliable, and safe way.
Both a product and service, grandPad was developed to make communication for seniors simpler and safer than ever before. With seamless video calling, one-touch voice email, and innovative apps, grandPad helps increase senior autonomy and reduce isolation. The partnership between grandPad and Lyft will make it easy for seniors and their caretakers to request rides, allowing seniors to have greater independence and freedom.
"Reliable transportation is one of the biggest challenges for seniors who are trying to stay active and engaged with their community," said renowned gerontologist, Dr. Kerry Burnight. "By empowering seniors to get to their family social outings and medical appointments, and even run errands, we give them independence and mobility, two factors that are crucial to a healthier and happier quality of life."
Lyft will integrate with grandPad in two different modes: Concierge and self-serve. Concierge enables a senior to connect with grandPad's white-glove, U.S. based customer care team, who will take care of all arrangements for the ride. The user would simply state where he/she would like to go, and the grandPad customer care team will arrange the Lyft ride.
The self-serve mode enables a senior to request a ride directly from the grandPad device. Pre-populated locations can be uploaded on the tablet for customized, seamless experiences. A family administrator can include locations that the grandPad user may want to visit regularly, including doctors' offices, grocery stores, or church functions.
With both the Concierge and self-serve modes, the family administrator of the account will receive text message updates alerting him/her of when the rider is picked up and dropped off. The rider will also receive alerts on the grandPad, with a photo of the Lyft driver and their car, the drivers' license plate number, and an approximate pickup time. To ensure comfort and safety throughout the entire ride, the rider will be able to video call family members from the grandPad tablet.
"By integrating Lyft into our technology, we are making it easier than ever before for seniors to attend appointments, run errands, and even visit friends," said Scott Lien, CEO and co-founder of grandPad. "We are honored to have Lyft help us meet the transportation needs of the growing senior population and, more importantly, make a difference by improving senior lives."
"Our partnership with grandPad brings us another step closer to meeting our mission of improving people's lives with the best transportation," said Gyre Renwick, VP Lyft Business. "Together with grandPad, we're able to offer better transit options for seniors through improved technology - providing them with more independence and increased mobility, and ultimately enriching the quality of life for people in these communities."
Lyft is available on the grandPad in all areas that Lyft currently services. More information can be found about the Lyft and grandPad partnership at https://www.grandpad.net/lyft
About grandPad
Based in Orange, CA, grandPad is a privately held company with a mission to improve the lives of millions of seniors by reconnecting them with family, friends, and caregivers. The grandPad—the first tablet specifically designed for seniors—comes ready to use out of the box and features a secure private family network and 24/7 live customer service. There are no confusing buttons, no passwords or pop-up ads, and wireless connectivity and security is built into the device—eliminating the risks of scams and hacks. Users can play games, listen to music, and enjoy many other exclusive apps on the grandPad. Additionally, caregivers/family members can video chat, receive voice emails, and share photos with seniors through grandPad's companion app. The company's Chief Gerontologist, Dr. Kerry Burnight, cofounder and director of the nation's first Elder Abuse Forensic Center, advocates grandPad as a vehicle for reducing senior depression and isolation. For more information, visit getgrandpad.com, like us on Facebook, or follow us on Twitter @grandpad_social.
About Lyft
Lyft was founded in June 2012 by Logan Green and John Zimmer to improve people's lives with the world's best transportation. Lyft is the fastest growing rideshare company in the U.S and is available to 95 percent of the US population. Lyft is preferred by drivers and passengers for its safe and friendly experience, and its commitment to effecting positive change for the future of our cities.
About Lyft Business
Lyft Business offers travel, commute, event, and courtesy ride programs that provide customers with the tools they need to reduce cost, save time, and streamline their transportation programs. We partner with thousands of organizations to create unique solutions to move their people, from employees and customers to patients and students. To learn more about Lyft's work in healthcare, visit: https://get.lyft.com/healthcare/
Media Contact
Natasha LaBeaud Anzures
SMACK! Media
natasha(at)smackmedia(dot)com
916-220-0169
Lyft Media Contact
press(at)lyft(dot)com