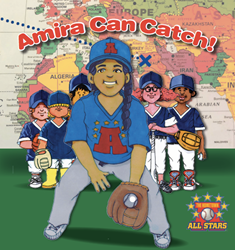 If a bedtime story can teach the youth of today about acceptance and tolerance, the world can be a better place.
PHOENIX (PRWEB) October 28, 2017
Kevin Christofora's "The Hometown All-Stars" children's book series is loved by little ones and parents alike. The author's charming stories combine educational elements like simple math with life lessons about everything from sportsmanship to health. Christofora will debut the newest installment in the series, Amira Can Catch, at the American Association of School Librarians (AASL) Authorpalooza. This new children's book tackles diversity and inclusion, as well as map-reading and how to pop a fly ball.
The conference, which takes place in Phoenix, Arizona, from November 9 through November 11, will provide fans with the opportunity to meet Christofora's in person. He will be reading Amira Can Catch on November 9, 2017 at 5:00 p.m., with a signing to follow from 5:30 p.m. to 6 p.m. Throughout the conference, Christofora will be available to answer attendees' questions about Amira Can Catch and the rest of the Hometown All Stars series at booth 122.
Christofora says, "I want parents and kids to read Amira Can Catch, and understand that we are all human, no matter what our skin color or religion is.  If we can teach the youth of today about acceptance and tolerance, the world can be a better place." He adds, "America has a melting pot of nationalities. I want parents to be able to help teach their kids through bedtime, anytime reading what it means to be an American, why so many other people come here wanting to be an American, and how fortunate we are to already be Americans."
Distributed by Midpoint Books, "The Hometown All Stars" series is currently available on Amazon, as well as thehometownallstars.com. Amira Can Catch will be available at the AASL Authorpalooza.
Kevin Christofora
Christofora, a father and little league coach, hopes his books will inspire children to play outside more often. A devotee of America's pastime, he aims to teach young people about baseball and the habits of a healthy lifestyle in the form of a fun and educational bedtime story. 
He has appeared on ABC News, ESPN Radio, 660 News Radio, Santa Fe - KVSF 101.5, and WDST-FM Woodstock, and has had articles featured in About Families Online, KidzEdge, Mom Blog Society, and several other publications.
For more information, please visit http://thehometownallstars.com/