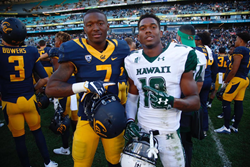 "Terrence is someone I have known for almost 15 years. He is very passionate about helping young people reach their goals in life. I feel that "Before You Go Pro" is a great tool for any athlete that has aspirations of going to college on a scholarship." UNLV WR Coach Cedric Cormier
SAN FRANCISCO - BAY AREA, Calif. (PRWEB) October 27, 2017
Through the use of online and mobile platforms, Before You Go Pro provides athletes across the country thought-provoking content, player updates, timely social mentoring, academic tracking, and access to an amazing network of current and former football players, coaches and business professionals.
Before You Go Pro was conceptualized in 2010, funded via a Kickstarter campaign in 2012, began a formal beta program in 2013, and is now expanding operations. Inspired by the vision of founder, author, former football player and San Francisco native, Terrence Wood, the passion and purpose of Before You Go Pro was developed through lessons learned from his missed opportunities on and off-the-field; It was also fueled by the irony of watching his Pro Football Hall of Fame grandfather, Willie Wood, endure rapid physical and mental decline from playing the game.
The extraordinary book authored by Terrence Wood, aptly titled, "Before You Go Pro", chronicles his story. But also provides players and parents a "behind the scene" perspective of the business of big-time football and a blueprint on how to capitalize on their opportunities. All member athletes of Before You Go Pro receive the book as their first piece of curriculum. It is an exciting read and required for all members!
Before You Go Pro recognizes the opportunity to teach players, with the support of their family, the characteristics college coaches seek in recruits…. Personal Integrity, Academic Commitment, and Social Etiquette. Before You Go Pro realizes that college provides an atmosphere for opportunity far beyond football, and that the industry is in desperate need of a more well-rounded and socially groomed athlete. Before You Go Pro has raised over $700,000 in athletic and academic college aid for member athletes over the past 4 years and they relentlessly work to provide Content, Coaching, and Advocacy to produce a more socially conscious athlete. Before You Go Pro is quickly becoming the nation's authority for grooming the quintessential athlete off-the-field. It's time!