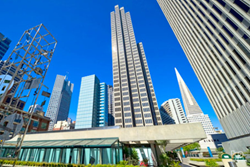 ...these additions to the Aptus team will further set us apart as the technology leader.
SAN FRANCISCO (PRWEB) November 05, 2017
Aptus Court Reporting, the West Coast's premier deposition and court reporting service announced today the addition of industry veterans Brandon Wai and Marika Pickles serving as Directors of Business Development out of their San Francisco office.
Earlier this year Aptus Court Reporting announced a new office in California's Central Valley (Fresno) continuing their growth strategy throughout the west coast litigation markets.
"The Bay Area has always been a high market of interest for Aptus. With the additions of Brandon Wai and Marika Pickles to an already successful team, we believe the sky is the limit. The team's dedication to their clients coupled with our focus on customer service and technology will ultimately enhance the all-important client experience," says Aptus President Derek Berg.
Wai has served at the Senior Account Executive level and as a Regional Litigation Consultant in the Bay Area since 2001 and brings an impressive resume. Pickles joins Aptus from a national reporting firm where she served as Senior Account Executive from 2013 through 2017.
"The addition of Brandon Wai and Marika Pickles will enhance the already-successful Northern California Aptus. Their combined experience and dedication to high-quality client service is an excellent fit for us. We are most excited to bring on this additional talent to the team," says Ron Harrison, Managing Director, Northern California.
According to Mike Tisa, CLVS and Director of Litigation Technology for Aptus, "Consistent with our focus on trial-ready deliverables, trial presentation and technology services, these additions to the Aptus team will further set us apart as the technology leader."
About Aptus Court Reporting:
Since launching in San Diego in 2011, Aptus has expanded its territory throughout the West Coast of the US, with local offices in San Francisco, Los Angeles, Sacramento, Irvine, Riverside, Fresno and Seattle. The firm provides a wide range of services globally with clients on five continents.
Aptus Court Reporting is a full-service court reporting firm and a leading provider of court reporting services and litigation technology. They provide a one-stop solution for deposition and trial needs with services including court reporting, transcription, videography, video streaming, world-wide conference rooms, and more. The company's mission is to "Connect Testimony with Technology." For more information about Aptus Court Reporting, please visit http://www.aptuscr.com.