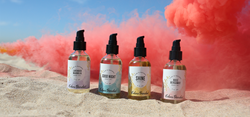 "The choice to offer body oils was simple because we are committed to offering safe and effective alternatives directly to customers," said Edens Garden CEO, Grace Martin. "Our body oils are unlike any other moisturizing product on the market."
SAN CLEMENTE, Calif. (PRWEB) October 27, 2017
Edens Garden i s expanding into skincare as it releases its new collection of all-natural body oils. Made with the same essential oils that made the brand a leader in the natural industry, the body oils are available in 10 different aromas, each packed with therapeutic properties and vitamin E.
"We are overjoyed to take our essential oil brand to the next level," said Edens Garden CEO, Grace Martin. "The choice to offer body oils was simple because we are committed to offering safe and effective alternatives directly to customers. Our body oils are unlike any other moisturizing product on the market."
Derived directly from plants, essential oils capture the wellness benefits and rich aromas of nature. From Lavender to Vanilla Sandalwood, Edens Garden's body oils are formulated to tone, repair and condition the skin while protecting against free radicals.
Natural body oils absorb more deeply into the skin than conventional lotions and keep the skin nourished for much longer. Unfortunately, an insurmountable number of lotions contain synthetic chemicals that can enter the bloodstream.
Mineral oil is a common ingredient in many lotions, which according to the Environmental Working Group, may contain cancer-causing polycyclic aromatic hydrocarbons. The ingredient can also make the skin age prematurely and clog pores.
Edens Garden body oils are are non-toxic, cruelty free and packaged in recycled glass bottles. A multi-tasking product, body oils can be poured into a rejuvinating bath, applied as a conditioning hair mask and used in an aromatherapy massage.
The collection includes Earth & Wood, Good Night, Lavender, Lavender Magnolia, Lemon Ginger, Rose Bergamot, Shine, Vanilla Sandalwood, XOXO and Yuzu Cannabis body oils are currently available for purchase at EdensGarden.com in a 4 oz bottle and 1 oz travel size. Body oil sets are also available.
About Edens Garden
Edens Garden was formed in 2009 with the intent to provide high-quality, pure essential oils at affordable prices. Since that time, the online company has grown to include a large variety of single oils, synergy blends, carrier oils and other natural products. Unlike many other aromatherapy brands, Edens Garden is a non-MLM company that sells directly to consumers. Through organic growth, Edens Garden has satisfied more than 1 million loyal customers. Known for a range of expertly formulated blends, Edens Garden has worked with some of the biggest names in the natural industry, including Schmidt's Naturals. To find out more about Edens Garden visit edensgarden.com or follow Edens Garden on Facebook, Instagram and Twitter.