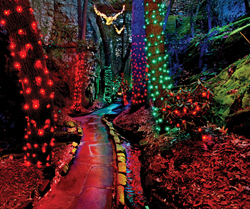 CHATTANOOGA, Tenn. (PRWEB) October 27, 2017
Without warning, or so we tell ourselves, the holidays tend to sneak up on us. They bring parties, cheery drinks, lots of shopping, and incredible fall cuisine. Amidst the chaos, it's important to step back and take some time to really enjoy the season with your family and friends.
In Chattanooga, you'll find plenty of incredible experiences along the new Holiday Trail of Lights that kicks off Nov. 17, 2017. The trail has eight major points of interest featuring millions of twinkling lights at Chattanooga's top holiday attractions. Visitors will also get to enjoy a varied array of festivals, holiday events, delicious holiday meals, Santa sightings, shopping, and live music and entertainment scattered throughout the city.
The Chattanooga Holiday #TrailofLightsCHA features eight major points of interest:
1. Rock City's Enchanted Garden of Lights & VIP Dinner with Santa
2. Tennessee Aquarium's Holidays Under the Peaks & Polar Express in IMAX 3D
3. Ice on the Landing outdoor skating rink at the Chattanooga Choo Choo
4. Twinkling Snowflakes along the Scenic Walnut Street Bridge in Downtown Chattanooga
5. Tennessee Valley Railroad Museum's North Pole Limited Adventures and Christmas and New Year's Eve Dinner train trips
6. Chattanooga Riverboat Co.'s Southern Belle Thanksgiving, Christmas, and New Year's Eve lunch & dinner cruises
7. Ruby Falls' Christmas Underground
8. Chattanooga Zoo's Holiday Lights
Chattanooga is conveniently located less than two hours from Atlanta, Nashville, Knoxville, Birmingham, and Huntsville. Once in the city, you can park your car and take the free electric shuttle throughout downtown, use the bike share system with more than 300 bicycles placed around downtown, or take the Hop On/Hop Off trolley.
With so much to do along the Holiday Trail of Lights, you will need at least a weekend to immerse yourself in the magic. Several accommodations offer special holiday packages that include overnight accommodations, tickets to holiday attractions and events, restaurant vouchers, and even some champagne and chocolate-covered strawberries.
The holidays will come and go quickly and then it's time to ring in the New Year. The NYE party you go to can be one of the biggest festivities of the year – if you know where to party. Celebrate in Chattanooga with a variety of family-friendly and adult options including train rides, boat rides, and late-night ice skating.
Coming soon! The official Holiday Trail of Lights Guide will be available in print and online.
Get the full details at Chattanooga's Holiday Trail of Lights.