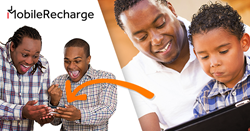 Prompt, easy service. Credit arrives almost immediately. Excellent! (Paulette on Trustpilot.com)
ATLANTA (PRWEB) October 27, 2017
Halloween is not at all scary on MobileRecharge.com, the service dedicated to expats in the USA and other parts of the world. The service has more than 20 offers for expats in the weekend before Halloween. 100% extra mobile credit applies all weekend on mobile top ups to the Caribbean countries for Lime, Movistar, Digicel and Natcom subscribers. African countries also receive automatic Orange Bonuses on mobile top ups from abroad, of up to 200% extra. Plus, there is a Facebook contest starting on Sunday, October 29, 2017, that will bring a free mobile top up for someone having relatives or friends in one of the countries listed on the website: https://mobilerecharge.com/
The Facebook expat contest is open for all expats, including Africans abroad and Caribbean expats. It requires everyone interested in winning a free top up for someone in the family to share a Halloween photo featuring his/her Halloween costume. It can be an old or a fresh photo. The race for a free long distance mobile top up starts on Sunday, October 29, 2017, and lasts until the end of October. The expat winner will be singled out on November 1 and announced in the expat community on Facebook, powered by MobileRecharge.com: https://www.facebook.com/MobileRecharge.Fan
Plus, all Halloween weekend, Caribbean immigrants who send mobile top ups to relatives and friends back home get bonuses of 100% local and international credit on their recharges. Bonuses apply to the person in the Caribbean instantly or immediately after the top up has been sent. Promotions are running mainly for mobile top ups to Lime, but there are also some for Movistar, Digicel and Natcom subscribers.
The subscribers from the Caribbean who can receive Halloween Bonuses this weekend from abroad, together with a basic mobile credit, are from: Jamaica, Mexico, El Salvador, Saint Lucia, Anguilla, Antigua and Barbuda, Barbados, British Virgin Islands, Cayman Islands, Costa Rica, Dominica, Turks and Caicos Islands, Montserrat. More details are available for each operator directly on the website, MobileRecharge.com.
Promotions of up to 200% extra mobile credit are also available for top ups of Orange mobiles in several African countries: Mali, Niger, Central African Republic, Democratic Republic of Congo, Madagascar, Senegal, Guinea, Guinea Bissau.
Bonuses consist of credit that can be used for domestic, as well as international calls, SMS and data, according to the operator and country.
The top up service on MobileRecharge.com facilitates mobile credit transfers in seconds, without any contract between the provider and the sender. The account comes with a number of advantages:
-MobileRecharge.com is highly mobile-friendly
-The account costs nothing and is available in several languages including Spanish and English
-"Promotions" tab in the menu centralizes all daily deals on MobileRecharge.com. They are also published on MobileRecharge app.
-Users get major offers by email if they press the "Get offers" button on the homepage.
-Payment is welcome in any currency, and PayPal is accepted besides all major cards.
-Safety is certified by the labels present on the website: "Verified & certified", Trustee, etc.
-Customer Service is seen as highly supportive; it is available 24/7 in both Spanish and English, and other international languages.
MobileRecharge.com is the initiator of World Top Up Day, and a brand of KeepCalling, a global telecommunications company registered in 2002 in the USA, listed by Inc 5000 as one of the fastest growing companies in the USA for 5 consecutive years. Presently, KeepCalling provides its services to hundreds of thousands of consumers , with a focus on customer satisfaction. In 2015 the company registered a revenue increase of over 200% from 2011 to 2014.