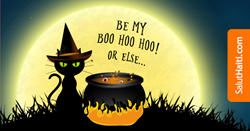 It's the best company as of today. I would recommend to anyone around the globe. (Timirack on Trustpilot.com)
ATLANTA (PRWEB) October 30, 2017
Haitian immigrants are invited by SalutHaiti.com, the service dedicated to the Haitian diaspora in the USA, Canada and other parts of the world, to join the Halloween celebration on its Facebook page and win $10 Voice Credit for international calls. The prize includes almost an hour to call Haiti, and even more to call other countries. Plus the credit never expires, so it can be used any time, which is a big plus of the SalutHaiti.com balance in general.
The current Facebook contest is part of a range of giveaway actions on the Facebook page of the Haitian community powered by SalutHaiti.com. This time, the challenge is to share a funny Halloween invite on a friend's timeline to enter the race for $10 Voice Credit until October 30, 2017: https://www.facebook.com/SalutHaiti/
More shares count for more chances. The invite is ironical and friendly, and is pretty general to match different contexts: "Be my Boo Hoo Hoo! Or else". The winner will be randomly picked on October 31, and will need to open a free account on SalutHaiti.com to be able to use the winning credit.
The Voice Credit Facebook prize has no expiration date, just like Voice Credit on SalutHaiti.com in general. The minimum amount out there for purchase on the website is $2, most useful for those who are unfamiliar to the service and need to test it.
The Voice Credit can be used to call more destinations, not only Haiti. The price to call landlines in Haiti is 18.5 cents/minute or the equivalent in other currencies, whereas the rate to call mobiles is 25.5 cents/minute. Calling rates for other destinations are displayed on the website.
The calling balance from SalutHaiti can be used in 2 different ways: with and without Internet access.
-Smartphone users have KeepCalling app available on App Store and Google Play. The app costs nothing to install, and turns international calls into local calls in terms of both dialing easiness and costs.
-For those used to calling phone cards, access numbers can be used to call without any Internet connection, from any phone.
Besides Voice Credit, SalutHaiti.com also facilitates online mobile credit transfers from one country to another, via the Mobile Recharge service. Anyone with an account on SalutHaiti.com can top up someone's mobile in Haiti in seconds, with no hassle. At present, SalutHaiti.com facilitates mobile credit top ups from abroad to Digicel, Natcom and Voila customers in Haiti.
Moreover, when a Haitian expat top ups a Natcom mobile these months, the person in Haiti will also receive unlimited data as a Bonus. The promotion is ongoing until further notice.
Existing customers who left their reviews on specialised platforms like Trustpilot.com, point out certain strong aspects that make SalutHaiti.com stand out on the global market:
-Best quality-price ratio on the global market.
-Everyone benefits of free calling features.
-Payment is highly secure; the website bears the label "Verified & Secured" thanks to its strong security system.
-Payment is accepted in all currencies.
-Offers and Bonuses are launched regularly for those who follow SalutHaiti.com on Facebook.
SalutHaiti.com is a website serving Haitians, and powered by KeepCalling, a global telecommunications company registered in 2002 in USA. Presently, KeepCalling provides its services to hundreds of thousands of consumers , with a focus on customer satisfaction. KeepCalling was listed by Inc 5000 as one of the fastest growing companies in the USA for 5 consecutive years.