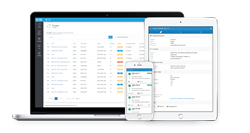 "We have always been committed to ensure that our customers are provided with the latest technology and we are pleased to share that all of our on-premise customers can upgrade to the latest version at no cost."
ORLANDO, Fla. (PRWEB) October 31, 2017
Today at the FUSION 17 Conference & Expo, BOSS Solutions a leading provider of IT Service Management solutions announced a new significantly enhanced version of BOSS Support Central its popular on-premise ITSM software. The product is designed to ITIL standards, incorporates advanced capabilities, has an award winning user-friendly interface, and is closely aligned with BOSSDesk the company's Service Desk on the cloud.
The new BOSS Support Central incorporates advanced ITSM capabilities including a comprehensive Help Desk for Ticket Management, a Self Service Portal to allow easy access for users to request services, Asset Management for total control of the lifecycle of all assets, and comprehensive Dashboards & Reporting for effective management. All of existing BOSS Support Central customers can upgrade to the new version at no cost.
"Our new BOSS Support Central is thoughtfully designed to incorporate advanced features and capabilities that are required to implement best practices in on–premise service management," said Maha Mahadevan CEO and President of BOSS Solutions. "We have always been committed to ensure that our customers are provided with the latest technology and we are pleased to share that all of our on-premise customers can upgrade to the latest version at no cost."
BOSS Solutions will be exhibiting at FUSION 17 Conference and Expo in Orlando FL. on October 31-November 2, 2017 where it will showcase both the new BOSS Support Central and BOSSDesk.
About BOSS Solutions
Founded in 1991, BOSS Solutions is a U.S. Company providing brilliantly simple solutions to meet the needs of customers in service management. The company's major product lines are BOSSDesk that provides IT Service Management on the Cloud, BOSS Support Central – that takes On-Premise Service Management to a new level, and BOSS 811 a one call ticket management solution for the damage prevention industry. The company has built a committed customer base by incorporating best practices in the automation of service management processes and the strongest commitment to customer support in the industry. For more information visit http://www.boss-solutions.com or call +1 678.684.1200.