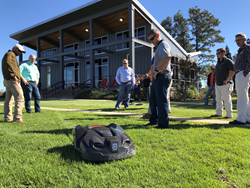 You would have to hire a full time landscaper to achieve the same beautiful results that a robotic lawn mower delivers.
FORT VALLEY, Ga. (PRWEB) October 31, 2017
On October 25, 2017, Super-Sod announced its turfgrass stores are now stocking and selling Husqvarna Automowers, robotic lawn mowers for home lawns.
"Robotic lawn mowers are revolutionizing the way that lawns are cared for, and Super-Sod is pleased to be leading the way," said Nick Sagnella, Super-Sod robotics and battery division manager.
Husqvarna Automower allows homeowners to set up an underground boundary system for their mower that ensures the small machine automatically mows their lawns any time of day, rain or shine.
The winning concept behind Automower lies in its razor-sharp blades that provide light, frequent cutting for an always-mowed lawn. Automower cuts minimal amounts of grass blades during each trip around the lawn in an irregular cutting pattern. Grass clippings are small enough to act as natural fertilizers without the need to be gathered, another time-saving benefit.
Automower's constant mowing results in better long-term lawn quality and cuts down on water requirements because of the clean cut, while the lawn looks good each day of the year. This small and powerful machine provides environmental benefits including a lack of fuel emissions, noise, and need for excessive fertilizer.
"You would have to hire a full time landscaper to achieve the same beautiful results that a robotic lawn mower delivers," Sagnella said.
Equipped with a security system and GPS tracking, the latest Automowers are the result of 20 years of development at Husqvarna. Much like an automatic vacuum, this mower is battery-powered and automatically relocates to a docking station to charge without the hassle of fuel or cords. The 430X model at Super-Sod comes with smart phone-enabled remote control of mowing heights and boundary adjustments through the Connect Module.
"Customers will experience a renewed love for the outdoors at home and spend more time doing the things they enjoy as the mower takes care of the lawn," said James Brown, Automower and robotic solutions channel manager at Husqvarna. "Customers will have an 'always mowed' lawn that never grows tall with the Husqvarna Automower."
Managers tested Automower 430X models at Super-Sod grass plots and on their home lawns in both Charlotte, North Carolina, and Fort Valley, Georgia before making the decision to bring the product to Super-Sod store locations.
New to the United States, Automower is available exclusively through Husqvarna dealers. Super-Sod is bringing these mowers to areas where they were not previously available throughout Georgia, North Carolina and South Carolina.
Stores will offer Automower demonstrations, cable boundary installation, and in-store maintenance services for customers.
For more Automower information, visit http://www.supersod.com/products/husqvarna-automowers.html.
Super-Sod, a subsidiary of Patten Seed Company, is a family run business that employs experts in turf and horticulture. Super-Sod develops garden products; fosters gardening and landscaping; and seeks improvement in farming practices, technology, environmental stewardship and employee knowledge.
The Husqvarna Group is the world's largest producer of outdoor power products including chainsaws, trimmers, lawn mowers and garden tractors. The Group is also the European leader in consumer watering products and one of the world leaders in cutting equipment and diamond tools for the construction and stone industries. The product offering includes products for both consumers and professional users. The Group's products are sold via dealers and retailers in more than 100 countries. Net sales in 2010 amounted to SEK 32 billion, and the average number of employees was approximately 15,000.