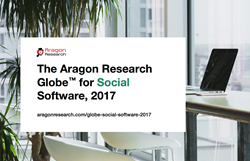 PALO ALTO, Calif. (PRWEB) October 30, 2017
The Customer Journey is one of the top issues for enterprises today. While a Community acts as a Knowledge Network that combines content, information, and tacit knowledge (expertise that people know), one of the goals of Communities going forward needs to be improving the Customer Journey. The Aragon Research Inc. Globe for Social Software helps CEOs, COOs, and other executive business leaders understand the current state of the Social Software market and the major providers in that market to choose the Community or Enterprise Social Network that best fits their organization and their customers.
"Clear use cases are one of the most critical success factors for Social Collaboration, and are what have enabled Social Software to mature," said Jim Lundy, Lead Analyst for Social Software and CEO at Aragon Research. "Going forward, Collaboration is about Employee and Customer Journeys. Social Communities help to speed up Customer Journeys by enabling customers to find fast answers to product questions, and collaborate with each other on best practices."
The technology providers in the Social Software market are evolving to put the Customer or Employee Journey first and to ease the challenge of deploying a Community or Enterprise Social Network. Of the eighteen providers featured in the report, seven are Leaders, two are Contenders, seven are Innovators, and two are Specialists.
Aragon clients can learn more in the research report "The Aragon Research Globe for Social Software 2017."